So this is my build of a 40mph electric GoPed.
How this came about:
For most of my life, my hobbies were building cars, electronics and motorcycles.
I have ridden motorcycles for all of my adult life. I built/raced cars for all of my teenage and early 20s. I got bored with it, and I sold all my cars. I spent a little over seven years of my life with no car, just a bunch of motorcycles.
I always moved from one bike to another, usually upgrading in power or performance in one way or another. Until I bought a new 08 CBR1000. I rode that for 3 years, putting 75,000+ miles on it. No, that's not a typo. I rode it a lot. Then I bought a 4wheeled vehicle, met the woman who became my wife, and rode less.
A couple years ago, I decided to get a second job to save some money up for our wedding. I found out about a local service that took a gas powered GoPed to bars, picked up drunk people in their own cars, with the scooter in the trunk, then rode it back. Given that I love two wheels, I like riding at night, and I can deal with drunk people easily... it sounded perfect.
It was fun. I didn't make much money, but I also didn't spend money when working. I got to ride all over town on a GoPed, and loved riding them.
Then some dumb drunk almost ran me over. He didn't as I am alert and pay attention, but as I was pulling out of his way I tripped, hit my knee, and hurt it. Long story short, That was my last night doing that, and I didn't go back to the gym or anything for 2 years.
Still, I like stand up scooters now. I know they're "legal" here in the City of Charleston, as long as they're GoPeds. The exception was placed there for that same company I worked for.
So I could just have bought a gas powered GoPed, mod it a little for speed, and be done with it.
Except for one little thing. I like building electronic projects. I sometimes commute by bicycle, and an ebike would be a natural things to build.. I SHOULD be doing it... but I have wanted to build an electric motorcycle for years. The only thing stopping me is the cost. To do it the way I want, would be at least $25,000 by the time it was done. Sure it would be "bike show winning" quality... I could tone it down to be more reasonable, and then I could afford it, but I can't bring myself to do a project that isn't what I want.
So I decided I would build an electric GoPed. Fun. Unique. and a good start for everything I need to know for my future motorcycle build.
Straight out the gate There was a lot to overcome. First of all, I needed to buy one. Since I was already planning to heavily modify it, a used one seemed like the best bet.
I won't go into the full hell of finding one, but let's just say the main GoPed forum disappeared.. it's like the ebike world if endless-sphere went away.. everything points to it, and its gone.
cutting to the end... I purchased a GoPed ESR750 off eBay.
Pre-build:
I rode the stock goped to work a few times. Very fun, but it had issues.
First issue was the rear brake... there wasn't one. GoPed only put front brakes on ESRs from the factory. Their add-on rear brake looked tacked-on and hung off the wrong side of the frame.
So I modded the wheel to fit a disc, found the thinnest caliper I could, and thinned it as much as I could, and fit it all together.
Next issue is the pole/handlebars were a little loose. Added a clamp to the bottom, and fixed that.
I also fixed the throttle (housing cracked), battery wires(loose crimps) and a few other things (handgrips, etc)
I now had a solid base. a GoPed that I could BEARLY ride to and from work on the stock lead-acid batteries. Fun, but it slowed a lot before I got to work. Even though it's a max of 35mph between home and work, I had to stick to the sidewalk because I maxxed at 20mph and was going about 15 or less by the time I was at work. Eventually It wouldn't make the entire trip at all.
So for my first upgrade, I did a little controller research. I figured out my controller will work with 33v. So I stuck 8 bricks of 4s lipo in the battery tray. I also added a bright LED front light, a tail-light, and a voltmeter. I cleaned up the motor and checked the brushes. The scooter was much improved. It would hold 20mph easily, and get there faster. I've touched 25 a couple times, but that was on a slight downslope. All would be great, except I was now slowly cooking the brushed motor. Not good.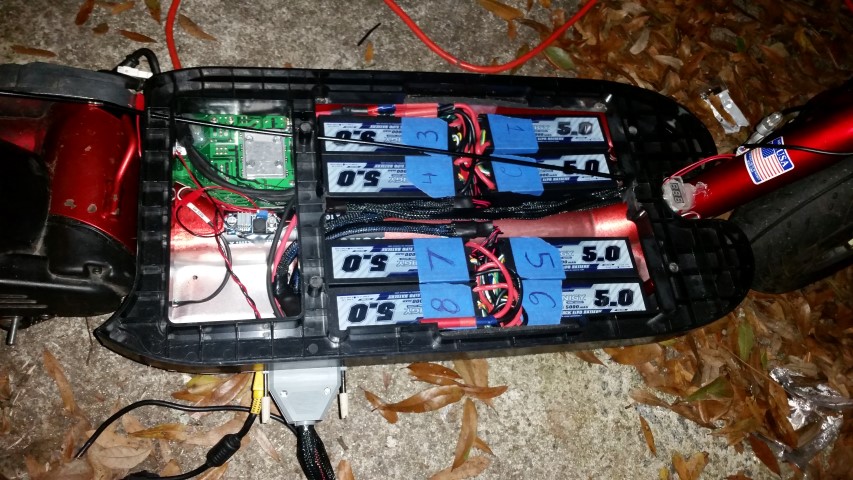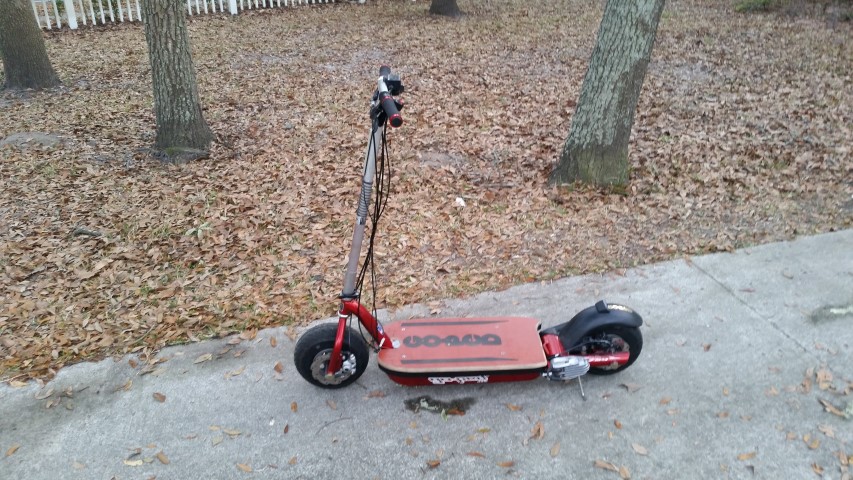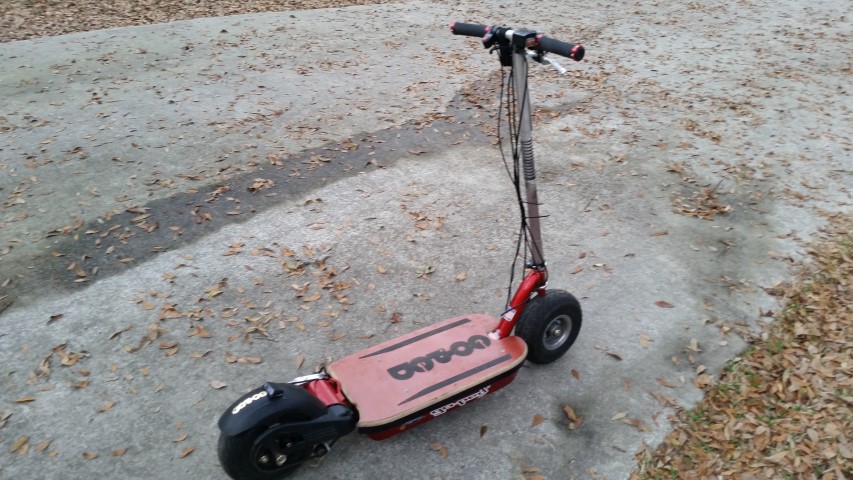 So the next step is where I am at now. And where this build thread begins.
The build:
It's hard to take a project as complex as this and lay it out in a format that makes sense for someone to read with others commenting.. but I am going to try anyway... I have a lot of ideas that are how I think I am going to do something.. but I am holding back most of that until I actually try to do them.. otherwise this thread would just be full of random "hope this idea works" theories.
There are several sub projects:
Building the motor.
Building battery pack.
Testing the motor/controller.
Modifying frame for motor mounting.
Building spacer for deck.
Mounting/wiring controller, lights and controls
Test riding it. / revising controller settings / etc.
building backpack light
building backpack/bulk charger
Final details, front/rear fender, etc...
Here are the stats on the final project build:
16s4p 20ah pack, charged to 66v
Sensored 80-100 motor - wound with 6.5 turns 14ga-two-in-hand - with 3d printed impeller/fan for improved cooling.
Lyen 12FET Extreme Modder Controller
Currently geared for 6900 motor RPM at 40mph... this is easily changed as needed.
Backpack will have 4 BRIGHT-BRIGHT-OMG-I-CANT-LOOK-AT-IT COB LED array lights flashing a holy-moly-I'm-gonna-have-a-seizure-pattern.
Backpack will also be setup with 2 meanwell SP-500-27 supplies putting out 33v each... for a nice quick but under 1c bulk charge.
You'll notice this doesn't have stats like "I will be putting out X watts of power"... this is because I need to test what I can do. What I will say is that my batteries are more capable than my controller. My controller (once modified) is more capable than the motor... and the motor will be slowly increased in power until I know its thermal limits. Then I will stay within them, or get a bigger motor. I have the width to allow up to a 300mm stator... but I would get zero airflow through something that long.... and with this babbling, I'll start with where I am now. The motor.
Motor Build:
I was going to run a sensored 80-85 motor. The motor was sold to me unassembled by Thud. He was kind enough to part with one of his 80-85 motors and include everything I should need to put it together. Hall sensors, paper, and all...
This is my first time winding a motor, so feel free to laugh, but give me any tips you can. I know my first try at this sucks. Badly. I will redo it and start over. I will keep doing this motor, trying to get it better and neater, until I get the hang of it.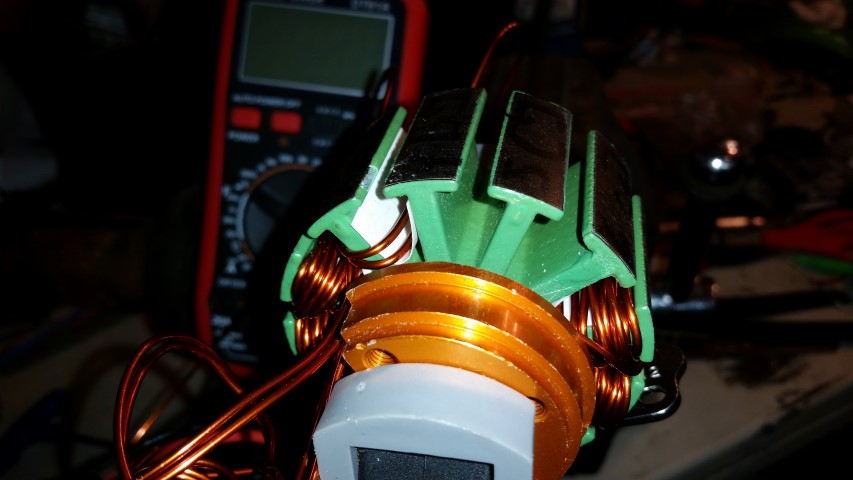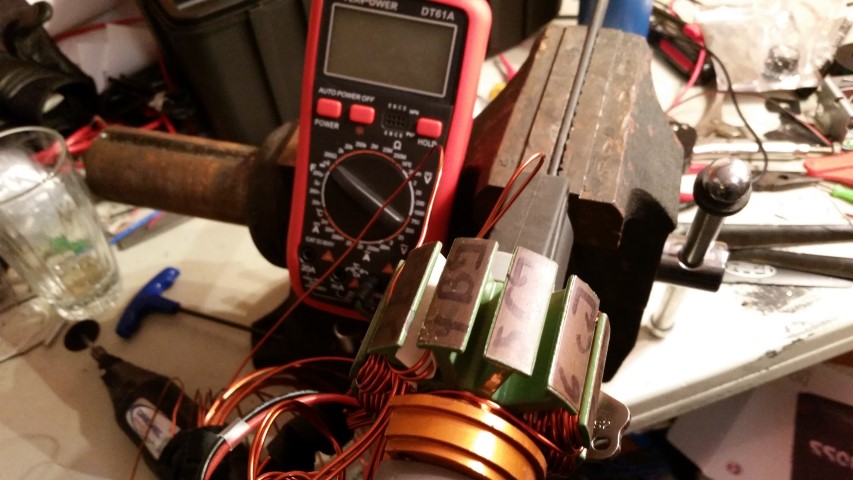 Until then… I just found a motor on here for sale… so I'll buy that motor and keep moving forward.