Hi everyone!
I've been asking questions on this forum for a while, and I thought I should contribute to the community that has been giving me so much assistance.I'm already posting this on another forum, but maybe some of the techniques that I'm using might help someone else, (and maybe someone will give me advice on how to do a better build!
).
I'm planning a build for later this year and I wanted to test some new fabrication techniques, mainly making fiberglass molds and panels. I picked up a Razor E300 for $10.00 a couple of months ago that I'm going to use for my testing. So, New Year, new build!
Here's the victim:
Dead batteries, crappy 180w motor, garbage controller and a on/off throttle. I could just throw on a new motor and controller and be done with it, but where's the fun in that? Besides, I've already done a few builds like that. I need to set the bar just a little higher this time.
I'm calling this build "Blue Carbon" because I'm going to use some blue and black fiberglass to make the deck: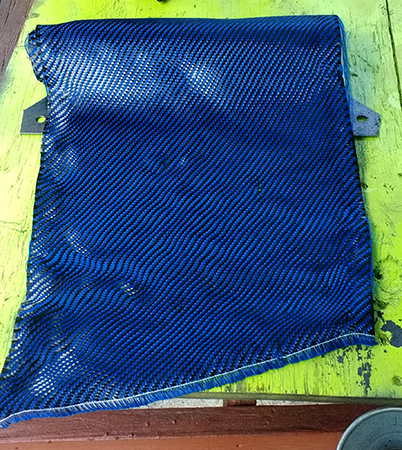 I ordered the cloth from China. The seller claimed that it's a combination of carbon fiber and fiberglass. However, since I paid $8.00 for 12" x 30" piece, I'm thinking that it's just straight fiberglass. No matter, it looks nice and should make an excellent looking deck.
I'm planning to use a Unite 36v 500w motor @ 48v, CK43B controller, hall effect throttle and a 48v Li-Ion battery pack. Since it has 8" wheels, I'm going to gear it 11/80. With the small wheels, better to have it torquey than fast. A 500w Unite motor is fairly large for this size of scooter frame, so I'm going to build a rear swing arm that I can mount the motor on. I'll use a mono shock to soften the ride. I also might try a springer shock on the front end to get some practice at building those.
I might build a dash panel/head light mount, depending on how much of the fiberglass I have left after building the deck. I also might change the short handle bars for something wider.
Let the build begin!