My Review of the e-bikekit 350 watt hub motor.
ok, First some background for those who don't follow every thread here. E-bikekit.com Offered members here a chance to buy their all new 350 watt geared motor for cheap.
I ordered mine 2 weeks ago, and got the invoice confirmation quick. Unfortunatly, a week went by with no tracking number and no package. So last tuesday I called and spoke to Rodger. He was helpfull and told me he couldn't confirm it had shipped, there was some kind of paper work error, but he would look into it and let me know. 30 minutes later I had an email from him. It hadn't shipped yet, but it was going out now. 30 more minutes and UPS had the number in their system as scanned.
Problems like this do come up. The good companies Like E-Bikekit Solve them fast. Thank you Rodger.
The box arrived yesterday in typical UPS fashion. Crushed corners, holes in the side, too dirty to set on the carpet inside. I feared the worst but opened the box to find everything in tact. It was all packed well enough to survive UPS!
The Axle is well made, the hub spins freely on it with no signs of wobble, and the rim is thick, double walled, and didn't have any real wobble or egg shape to it. Jason had posted that these wheels were laced in china, and not hand built by them like the 9C's. It shows.
The spokes are good and thick, but the wheel needs a little truing, and a few spokes were loose. Unfortunately, the spokes are run down to the last thread, and there was no thread left to tighten them. There's all so 3-5mm of spoke poking out past the top of the nipple. It doesn't interfere with the tube since its a thick double walled rim, but it shows the spokes aren't fitting right. the heads of the spokes are all facing out, and I think thats the cause of them being too long.
There is a mount for a disk brake. it uses a standard 6 hole mount, and my spare 160mm Avid mounted on without issue. The 6 supplied screws are a little soft, and you'll want to replace them BUT you'll need spacers if you use the Avid supplied screws. the first time I mounted the disk, I jammed up the freewheel. the Avid screws went in too deep. it took 2 extra thick washers under each screw to make it right.
And there is something to be aware of. 160mm is too small of a disk to use with an Avid BB5 or BB7. the pad adjuster hits both the hub and the spokes. I jury rigged something and made it work for today, but it wont work when I fix the spokes. A 185mm disk or larger should clear everything just fine.
There is no torque arm supplied with the kit, and a geared motor needs one. Not an issue for me, I built this fork, and used 1/4 thick plate steel for the dropouts. they are their own torque arms, but a normal fork would need it with the torque this little thing makes.
There are, however, tabbed washers with the kit. These are great, and better made than the ones supplied with the 9C I got from them last year. They are almost exactly as thick as the axle, and have a larger surface area in contact with the 9C's tabbed washers.
The controller is smaller than the 9C's. I can see why Jason pointed out several times to this crowd that they don't recommend this for 48v. Its pretty clear its not going to be able to shed much heat, but this is a 350 watt motor, not a 500. I like the small size, it made it easier to hide it on my bike.
It came with a PAS system. Crank sensors and the ring and harness. I'm sure someone, somewhere will care about that.
The plastic housing for the hall sensor connector comes in a bag, and you have to plug the wires into it your self before you hook the motor to the controller. Presumably this is so you can get a torque arm over the harness and onto the axle. I really like this about the kit. it was a PITA to get the torque arm on my 9C.
It has an interesting thumb throttle. It rotates on an Axis perpendicular to the handlebar, instead of parallel. it feels weird but it works well, especially since the shape of my bars and the controls I have mean it has to sit on the left hand bar and be operated with my index finger. It feels surprisingly natural like that.
There is a weird control box with battery indicators, an off/on button, and a mode select with high/medium/low. These seem to affect the speed more than the torque. it defaults to medium when you turn it on. I have no speedometer on this bike, but speeds at a guess, 8, 13, 18mph in the 3 settings. I kind of like the box. It suits this motor well.
Brake handles. the brake handles, throttle, and control box are all wired into a single harness with a single connector. you can't separate them. Normally, I view the brakes that come with motor kits as wasted shipping weight, but these are all metal, and long, 4 finger handles. they were better than the brake handles I had on the bike, so no complaints here.
The motor runs great. Its louder than the 9C, but it doesn't sound like an electric drill. Its reasonably quiet for the rider, and not an unpleasant sound. Something like a large fan motor.
There is plenty of torque. Plenty! It feels like It makes as much torque off the line as my 3000 watt bike. But that extra torque quickly drops off, too. It did seem to handle the grade 3 and 4 hills in my neighborhood well, and and didn't bleed off much speed as the hills increased. On high it broke traction on grass from a standing start, and could slip the tire as I pulled off the paved path onto a dirt trail at the park.
To sum this up. Its a Great little Motor. I'm happy with it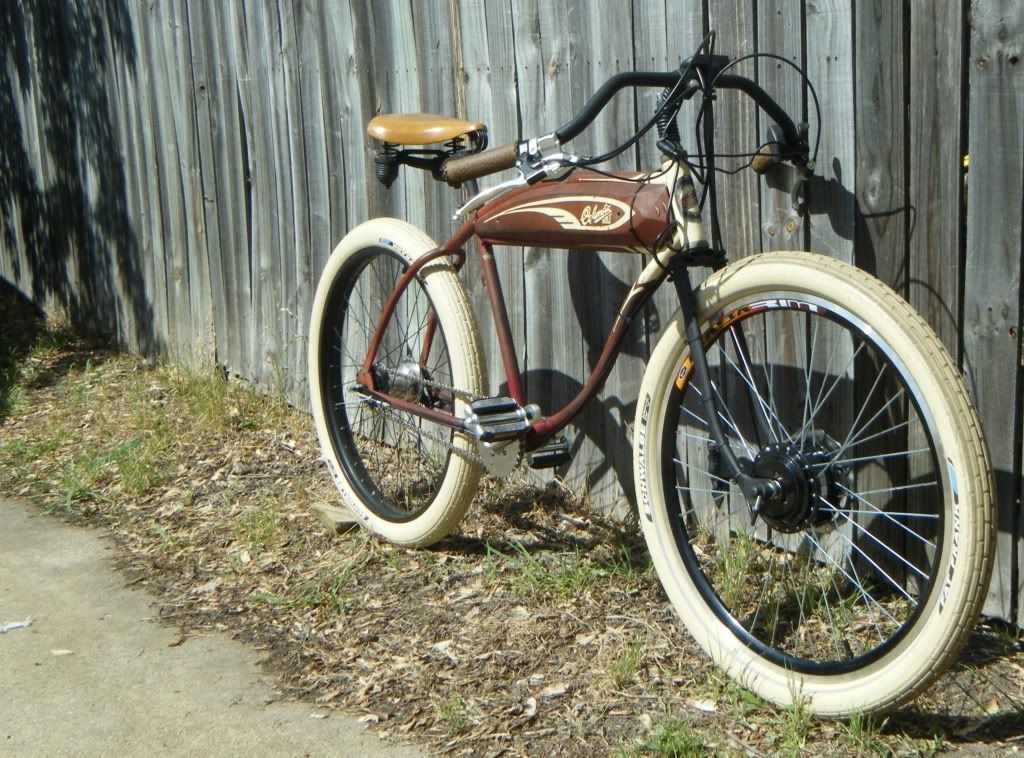 The Bike I have this in is actually a work in progress. I have a gas motor for it that I removed to do this review. There is a 37V, 8Ah LiPo battery along with the controller in the tank of the bike.