This is
P0
: My 19 year old
Specialized Rockhopper
MtB that I use for… well let's just say it is my primary mode of travel.
Before:
The previous configuration as of late June 2010 just before the
summer road trip
sporting a full compliment of batteries (15S12P) is shown below. After that long arduous ride I removed 1/3 the batteries which aside from hauling less weight made for some really nice long distance commuting experiences at WOT (15S8P).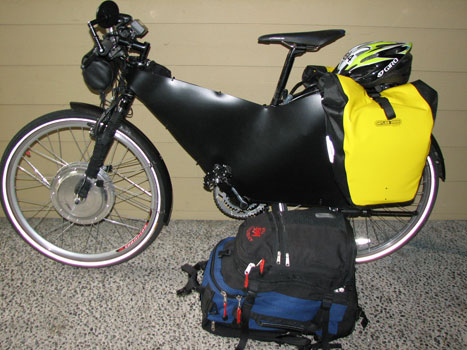 However, as
Old Man Winter
arrived the FWD would slip in the rain. The Ortlieb bags were also beginning to look pretty tired. Still… this was a very striking configuration that attracted the friendliest attention from all sorts.
After:
This is the present configuration after completing the
Epic Battery Bag
project. Actually I still have a few minor details to wrap up; I'll update the post if I add some of the lighting ideas from the
LED Lighting: Accent Coloring thread
.
Key features/changes:
Batteries moved forward (15S6P) and into a new home-built saddlebag
New HP-LED Cree headlights
Mounted the Schwalbe Marathon Winters (studded tires) at both front and rear
Reorganized wiring harness and added a charging plug that can double as an extension for rear batteries (hidden from view).
Although not as trick-looking, the bike does handle a lot better
Note: FWIW - no, the image is not goofed up; the secret urban bat cave received a new coat of ZOMBIE repellant last month: Ghoul Green is so in vogue this time of year...
Enjoy,
KF