So with the imminent delivery (finally) of the Crystalite group buy I thought it about time to start a first build thread.
I've "procured"a Rans fusion. Some say I retrieved it from the side of the road on hard rubbish day.
Abandoned, I took it under my wing and nursed it back to health...
I'd also like to point out at this point that Matt (recumpence) is a Rans Dealer and an absolute pleasure to deal with, compared to the only Rans dealer in Australia who I would describe as disinterested at best.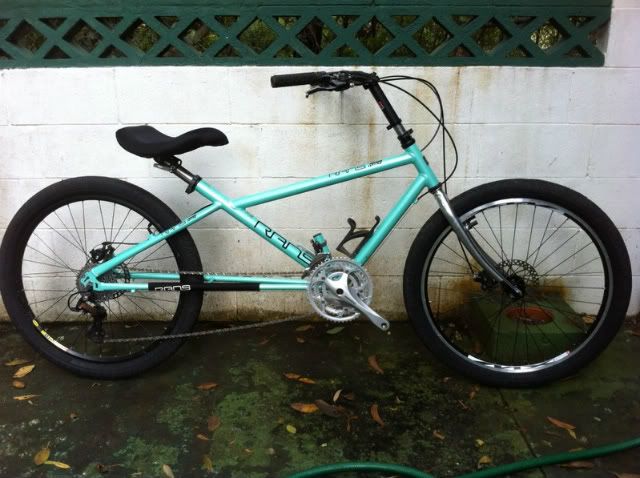 The more I look at this bike , the more I'm leaning towards putting a 24" rim on the back. Hyena's arranged 2 H 4080s (?) one laced into 26"rim, the other unlaced so plenty of scope for field testing but for pure asthetics, the back wheel on it now, just plain looks to big to me.
The handlebars that came with the frame looked wrong too so they have been swapped out for these..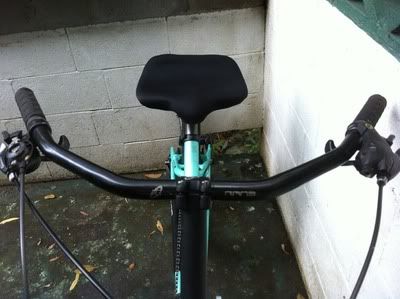 plenty of room for cycle analyst, headlights, buttons, switches, bell, general gadgetry...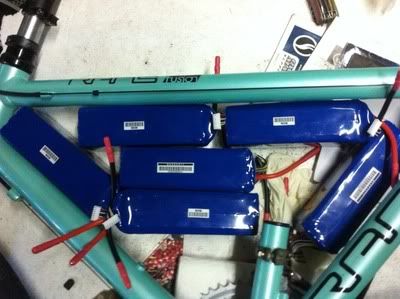 and the frame itself can fit my 6 x 6s1p 8000mAh zippys for 66.6V and 16Ah. Plenty of room in front of the rear wheel, too, for controller, more batts?,lunch,beer,e.t.c. The photo is after 3 mins of playing "see if it fits" so final config. should be more betterer..
It's an alu frame (fail) no suspension (fail) but i'm intending on commuting 35km round trip on road, ashphelt bike tracks so
should
be fine..we'll see.
Doc's torque arms with DP410 for the dropouts.
don't have a charger yet, 4-5 weeks til motor comes so in no hurry/still thinking that side of it through.
I'm thinking PVC for the battery pod,enclosing the frame, there's a "plastics factory" nearby that I googled upon this morning, they sell 2400 x 1200 ml sheets of pvc,polycarbonate,ptde, all that type of stuff...plumbers pipe to fit snugly around the tubes...
>>>>>>>>>>>>>>>>>>>>>>>>>>>>>>>>>>>>>>>>>>>>>>>>>>>>>>>>>>>>>>>>>>>>>>>>>>>>>>>>>>>>>>>>>>>>>>>>>>>>>>>>>