After much ahdoo & waffling (& copius finger drumming by supposedly paitent onlookers
)
I present My idea of what a DH comp should look like (eventually)
A little history:
G bought a Scott dh bike in a moment of weakness & was soliciting ideas for the build...I offered to give it the full Monty thud style...& G thought about it.......then said since your offering, I'll just buy another DH Comp for you to thuderize...
can't have too many bikes in the garage....(i am not sure his wife is aware as of yet LOL!....been there done that.
)
Here is the bike as I recieved it:
1st impression: Well built bike for its intended use....bombing down big ass hills & everything in the way as its doing it.....this is no bike built for cross country trail work...its a heavy muther & pedals like #@*!@t. I'll remeber to get a pre-conversion weight but I guess the thing is more than 30#s as delivered. Edit:bike weighs 46 pounds before conversion
The Plan:
Build the lightest, most durable,maintance free offroad orented e-asist we can...& for maximum utility & hill flatening ability, we will drive the bottom bracket & use the full range of gearing the stock 8 speed allows. Matching the human cadance with 2.5kw of continuous assit....peaking at 5kw for some serious climbing power....all the while the riders feet are firmly planted on the pedals & able to crank along as much as his heart desires.
I built a BB drive for a buddy a few years back....so this is not toatly new teritory....but you will see the evolution in this new project. Here is a Giant that has the 1st prototype drive in all its square box uglyness. Its powered with Turnigy 6374, a CC Ice100 running on 8cells.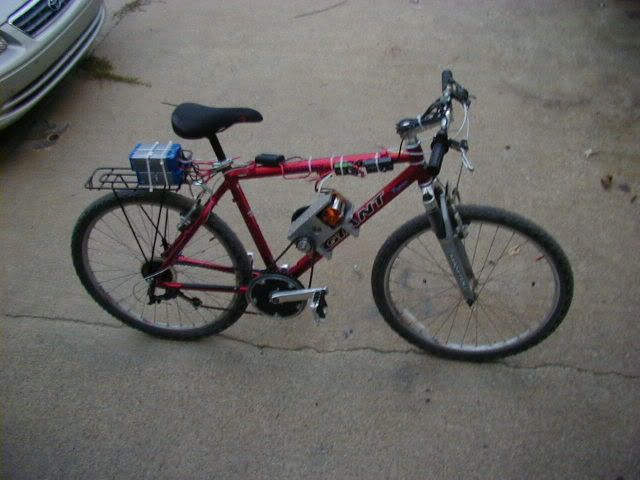 It is a joy to ride....& I have mentioned this bike in a few threads, & frankly this is my ideal "assist" for a bicycle. nothing like the moped class bikes I have more recognition for....the superman feeling of riding this bike is something you have to experiance. it is still good for 25ish mph in top gear....but for hauling the kid trailer or climbing a hill....this thing is a real winner.
Here is a model of the new reduction unit, its actually the plug that will make the gear cover mold for the production unit, exact size with the exception of being 3/4" wider.
Thats right, the main reduction unit is 2.25" wide.....thats the same width as a downhill tire....& less than the 2.375" down tube of the DHcomp.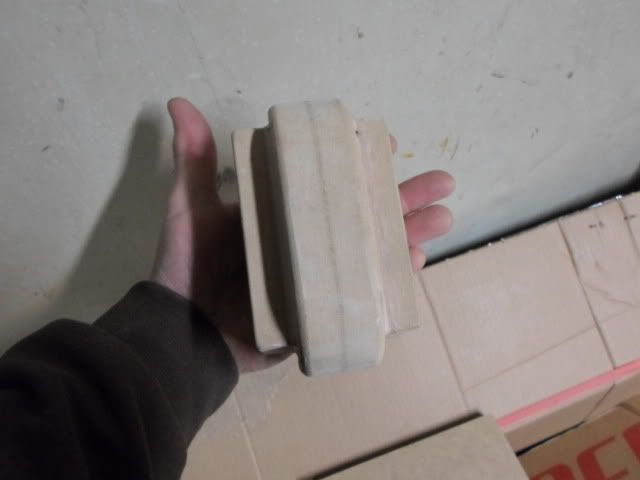 Inside that magic box resides compound #25 sprockets that yeild a 6.65-1 reduction internaly. to make the unit maintance free, I will mold the cover to make it oil tight & hold aprox 3 oz of splashy slipery stuff to make the chains happy.
sample: