Scarily I've been about six or seven months now without an ebike
not quite sure how that happened but its time to finish my new electric bike.
Here are the specs for the bike
Motor: BMC puma at 48 volts 60 amps peak. An old one that steve had, might be slightly damaged but seems to work ok. Mounted in 24 inch wheel
Controller: 72 volt 60 amp crystalyte 4110 fets
BIke: Cheap Ali Mtb got second hand. Importantly it has suspension - the lack of which killed my last bike.
Battery: 48 volt 13AH nimh - old ones I've had for ages and fortunatly/unfortuneatly they show no signs of deteriation so no lifepo4 for me yet.
Charger: powerstream 2A - with discharge facility
Meter: Old Drainbrain with speedo.
My goals for this build are
All batteries in a hard case in the triangle
The bike must be able to be ok to ride or leave in the rain.
The bike must be reasonbly tamper proof and the batteries can't be visable as some people think they're exposives - i got a bit upset after a security guard pulled out the phase wires - "just in case"
Nice simple wiring and connections, no fiddling around with connectors. simple plug in charger and keyswitch on.
Try to minimise duck tape
Lots of torque, 25 mph top speed and around 25 mile range with pedalling.
Some pics so far
bike and bits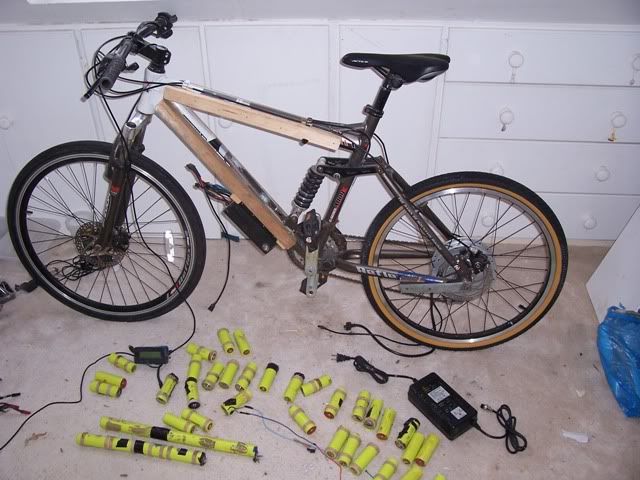 4 pieces of wood glued to the frame with gripfill. I was going to use a couple of bolts drilled through the frame but the glue seems so well stuck I don't think I'll need them
Steve's old BMC puma a welded on torque arm and bracket custom made in about 5 minutes by Richard the welder at PHEV.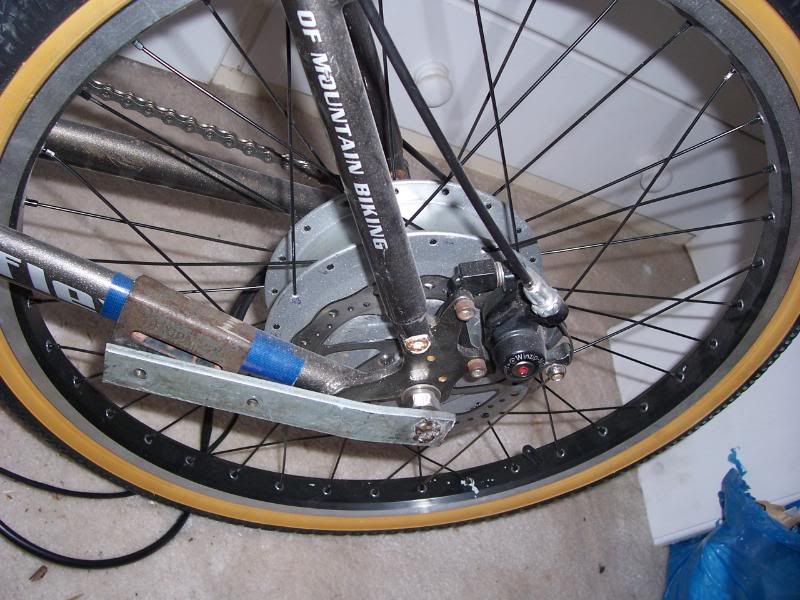 Controller stuck to the bottom and semi waterproofed. Wires should be covered up when case is fixed on.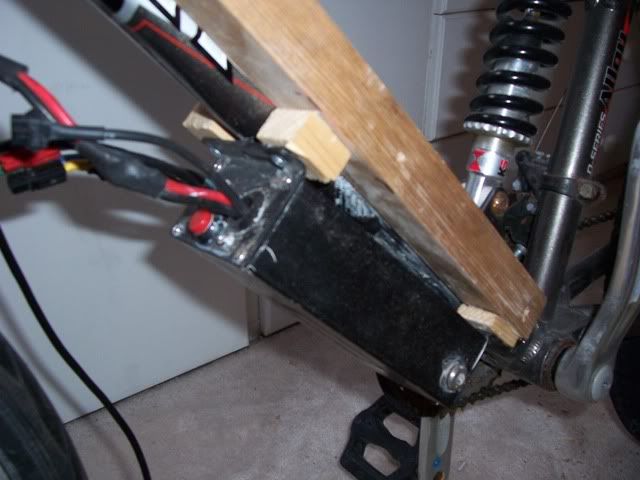 More updates soon, i only have 2 weeks to the london to Brighton EV rally