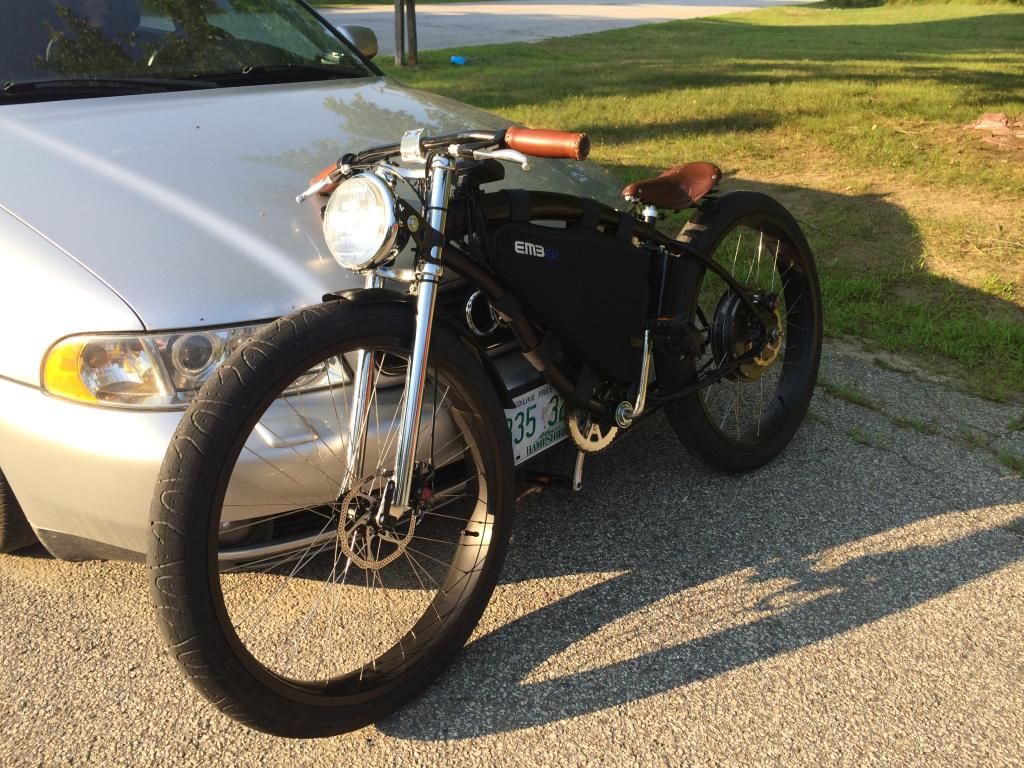 Heres some update pics, just need to weld the torque arms and a bracket for the rear avid bb7 mechanical caliper. Also still waiting on my 72v frame triangle battery from em3ev which is being custom configured by Paul(cellman) and lastly need to swap out the bottom bracket. This bike started life as a micargi steel frame single speed.
Motor- Crystalyte HS3540
Wheels- Choppers US 3" dual wall aluminum
Controller- Infineon 72v 40A
Computer- CA3dp with temp sensing
Brakes- 160mm front and rear avidd bb7 mechanical disk
Seat- Brooks
Torque arms- Doctorbass
Battery- (yet to receive)72v 14Ah frame triangle samsung 20R cells
Tires- 2.5 in maxxis hookworms, kenda DH tubes, tuffy tire liners
Cant wait to ride it
I purchased a very nice road bike that ive been riding quite a bit so it hasnt been all that bad.
-------------------------------------------------
Hello everyone,
A few months ago I read an article about Audi's new electric bicycle capable of 50 mph and I just couldnt believe it. I did some digging and stumbled upon this forum and also electricbike.com. I was amazed by some of the bikes people were building on slim budgets. Instantly hooked. It was time for me to start thinking outside of the transportation box and build something different:
My plan is to build a modern boardtrack inspired bike capable of a cruising speed of 35 mph, rear hub direct drive motor, with a temp sensor, front and rear disk brakes, a lifep04 lithium battery and a cycle analyst. I chose this steel frame cruiser made by micargi as a starter for a few reasons.
Untitled
by
danjpendleton
, on Flickr
Untitled
by
danjpendleton
, on Flickr
Untitled
by
danjpendleton
, on Flickr
Steel frame
- Heavier, but more rigid and overall pretty good durability. Plus, I can spread the rear drop out a bit if necessary for the hub motor. Which will be very likely.
Motorcycle triple tree front fork
- Mainly because it has a tab for a disk brake caliper, still deciding whether i should go mechanical or hydraulic. I almost went with a springer front because it has a more vintage look and because i know of a source that sells springer front disk brake caliper adapters. This would have been more costly and I think the triple tree will add to the modern look. Plus it came on the bike from the factory.
Wheels
- are 68 spoke so ill have to ditch those, but I might run the 26x2.125 tires that the bike came with.
Seat
- will need to be modified to achieve the look i want and ill probably ditch the seat for a brooks saddle.
Bars
- I bought some sweeping cruiser bars i was going to flip and trim, but the center that gets clamped is too fat. The ape hangers need to go
Gearing
- I went with a single speed to simplify everything. I plan on purchasing a latger chain ring to keep up with the hub motor at higher speeds.
Originally I considered a stretch cruiser, but Im glad I didnt get one. They are entirely to big and cumbersome. This bike is perfect for what im trying to achieve and it will fit in the roof racks with ease. Plus i can drag it up some stairs and into an apartment if i ever have to store it at a friends. My other consideration was a 4-stroke motor kit. Nh requires a motorized-bike registration now and theres a lot of confusion around legislation. too noisey, too much attention from cops and the opposite, and frankly too much like a motorcycle.
I found two of the same bikes on motoredbikes.com with 2 stroke kits that share a very board track inspired look to them:
FxCam_1370890553178
by
danjpendleton
, on Flickr
036.108131423_std
by
danjpendleton
, on Flickr
I really like electric bikes because not many people are familiar with them. They are cutting edge and just downright cool. As battery technology improves I feel like more and more people will see their potential as reliable commuter vehicles. I know a lot of people already have. I still have a lot of planning to do, but I wanted to introduce myself to the forum and start a build thread in the early stages. Im very optimistic about this project and cant wait to get the ball rolling. I will post up some more info very soon and look forward to hearing from all of you.
Thanks for reading.