*Editing first post with final result and list of some of the decisions that led to the final product. Some of the pics and video's are duplicated (pulled from later posts) as I'm trying to consolidate.
This is the bike in its current (final) form :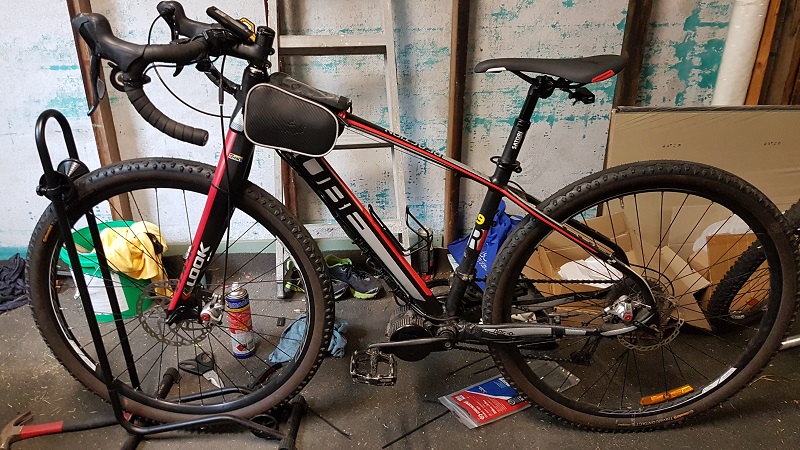 The Bike in it's Version 2 Form :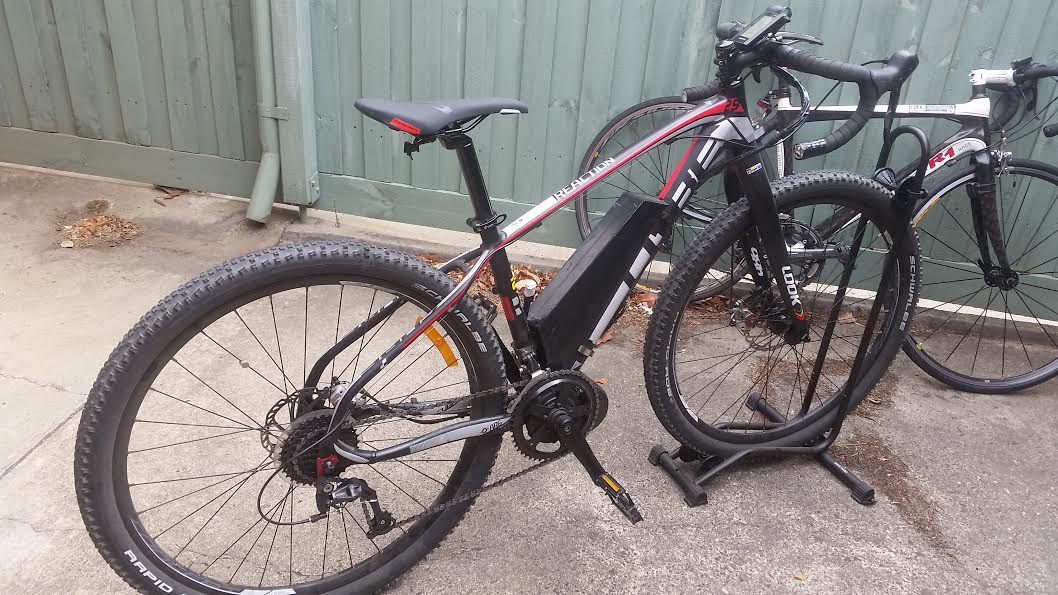 Bike :
- Cube Reaction 29er frame (aluminium for BB clearance)
- Look 986 Tapered Carbon fork for 29er
- Shimano 9 speed MTB megarange 11t-34t cassette (already had)
- Shimano Altus 9 speed rear mech (already had)
- Shimano Altus front mech (already had)
- Concept Ex wheelset (quick release), seatpost and seat (already had)
- Deda dropbar
- Shimano Sora 3500 sti shifters ( 9 speed - explain this later )
- Avid BB7 road disc brakes. 160mm rear, 180mm front.
Electronics :
- BBS02 with C965A from eMax Sydney
- 52v setup - 14S1P of Hobby King Zippy Compact 5800mAh lipo (2 x 7S)
- Greentime 14S 30A BMS ( 5A charge circuit ) ~AUD$30.
- em3ev 58.8v 5A charger ( I also have a Greentime 58.8v charger coming which can be had for under AUD$60 delivered to Melbourne)
- Full charge from empty takes about 1 hour.
- Upgraded BBS02 48t chainring.
Details :
- Lights - Moon Comet Front and rear.
- Full weight - 19kg.
- I use throttle only for 99% of rides.
- It will easily do 25km on 5800mAh juice if you keep it under 35km/h. Going faster burns it faster.
- Top speed of 50km/h with assist ( 48t chainring and 11t rear makes this possible )
- 1 x 9 speed MTB setup gives enough low gears to get me out of most hills without power. As the BBS02 is geared, it doesnt have any drag, so feels like a normal bike.
The original plan of hiding the batteries in drink bottles didnt work out(although would have been mad stealth). I actually had it working for a month while testing but I didn't have confidence that the bottle holders were strong/safe enough for holding lipo's. I even tried duct taping the thing down... The weight of the batteries inside the drink bottle kept on moving it around. It was a safety issue... So I went back to a formula I know works well. Metal box out of building frame metal and hose clamps. I'll revisit the water bottle idea later if I have time. The issue was the holder not strapping the water bottle tight. If I had better knowledge of 3d printing, I'd build some custom mounts and make it work.
About the Shimano Sora 3500 9 speed. I had to stick to 9 speed as the cable pull/indexing for 10 speed and up is different between MTB and Road. If you want to use MTB cassettes (really important if you only have 1 front chainring) with road shifters then you're stuck with 9 speed in the shimano range. The Sora 3500 isnt too bad. They got rid of the shitty thumb thing that was so shit on the older models. Ergonomically its as good as a 2010 Shimano 105... which is pretty good.
As this is a commuter with a sealed battery pack, I use a LiPo BMS for simple plug and play. frock pulling packs apart to recharge.
People have asked me about my throttle setup on the drop bars. Its a simple pvc pipe and two cable ties. The pvc pipe is used as a spacer to keep the cable ties off the throttle mech.
Thumb throttle on drop-bar for use on the hoods setup.