sendler2112

wrote:

↑

Feb 17, 2018 8:24 am

California had a sunny day again yesterday. It's interesting how flat the peak from solar is shown. Flat accross from Noon to 18:00. And how much they can vary the hydro. Very poor wind again though.

NY cruises along 16 GW at 200gm/ kWh with 50% hydro and nuclear.

Germany had good sun and wind yesterday making it down toward 300 gm/ kWh. Today, not so good. And the data just now dropped out! I hope it comes back.

South Australia had a good day with 20% of 1.5GW from solar at noon and now the wind is finally whipping with 500MW out of 1.5GW installed.

.

https://www.electricitymap.org/?page=ma ... wind=false

.
Yes with Germany it does have these long multiday dropouts. Its been grey color for about 24 hours now? While I can see the previous hours it was grey about this time yesterday when I looked at it. I don't understand how they can't supply their data, even much poorer euro countries like Latvia/Lithuania etc can provide their electricity data 24/7 but Germany just can't do it.
And it always seems to happen when the wind is dubiously low, I know it seems just too silly to accuse Germany that they are pulling their data when it looks really bad on wind but so far it always seems to go out on bad days.
England is at 4% wind right now and Italy about the same so not a lot of wind around Europe atm I guess. Came across this article which had an interesting chart
https://www.forbes.com/sites/jamesconca ... 874eba128c
Thought this was the most interesting bit

On a total dollar basis, wind has received the greatest amount of federal subsidies. Solar is second. Wind and solar together get more than all other energy sources combined.

However, based on production (subsidies per kWh of electricity produced), solar energy, has gotten over ten times the subsidies of all other forms of energy sources combined, including wind (see figure).
But the subsidies for nuclear and fossil fuels are indirect subsidies like decommissioning and insurance assistance, leasing of federal lands, and other externalities, unlike the subsidies for renewables which are directly for the production of electricity and directly affect cost and pricing.

Within the renewables, electricity-related subsidies increased more than 50% for wind and solar, whereas conservation, end-use, and biofuel subsidies deceased more than 50%. This is unfortunate since conservation and efficiency usually yield great results with little cost or infrastructure requirements.
Until they do away with subsidies to an even level across all energy these claims that renewables is cheaper thus better than conventional energy will continue to be a bunch of baloney to me, because if it's that great then it doesn't need taxpayer help.
The other thing I been thinking about is how we keep going down a more slippery slope with renewables and their environmental destructiveness while still calling them renewables
With South Australia and their taxpayer helped Tesla solar+battery system I was thinking about how much Cobalt has gone up, apparently, its like $4,000 worth goes into a Tesla car at the $80,000 a ton mark for Cobalt.
So the question I ask, if its all so "renewable" then why is the price to make this stuff going up on price so much? Because its not renewable. Unlike Hydro-electricty which is very abundant constantly being recycled water cobalt gets locked up into batteries and before Tesla has really even begun making a difference the price is starting to kill it, so it highlights just how lacking it is in renewables.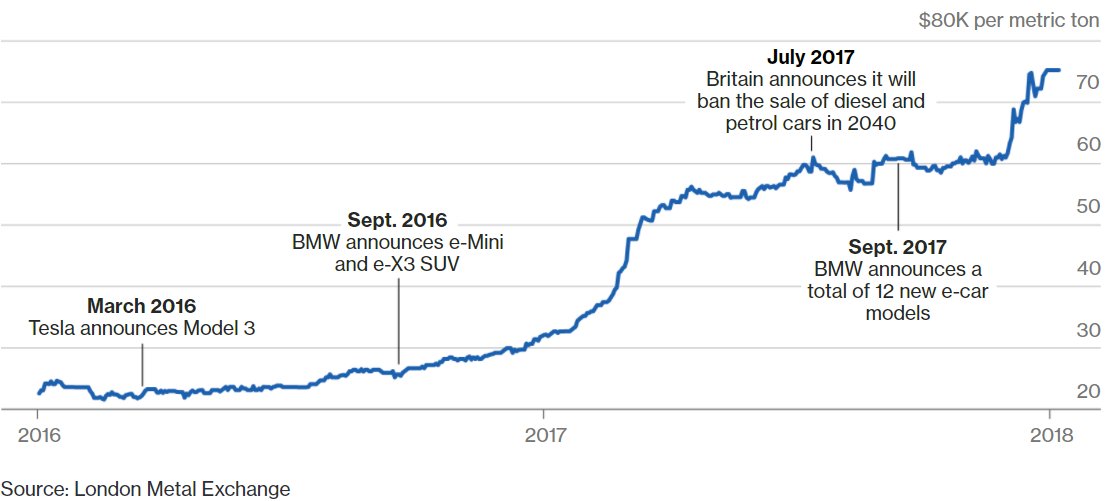 https://www.bloomberg.com/graphics/2018 ... batteries/
Just checking out some of the ultra-potent green house gases emitted from solar-panel manufacturer and they are still rocketing higher, just grabbed this live from NOAA. And its not hard to calculate that these single handedly out do most countries entire co2 emissions and of course can't be absorbed by trees and will be in the atmosphere for 100s to 1,000s of years.
https://youtu.be/v6uVnyjTb58?t=12m47s