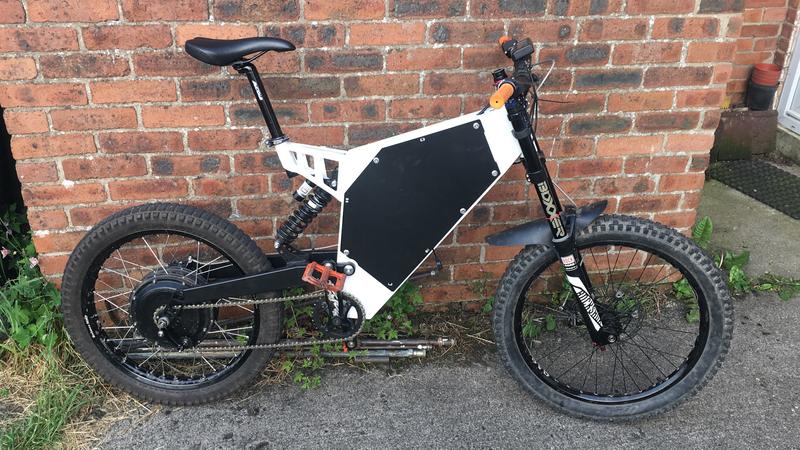 Frame: Q76
Forks: Rockshox Boxxer RC
Shock: Rockshox Vivid
Brakes: Shimano Saint
Cranks: Raceface Chester
Bars & Stem: Raceface direct mount 35mm
Rear wheel: 19" Holmes MMP rim & Shinko trials tyre
Front wheel: 24" Halo SAS & Vuelta 24x3" tyre
Motor: Cromotor V2 18x4 winding 9.7kV
Controller: Sabvoton 72150 & CA v2.4
Battery: 84v 16AH (5x Multistar 4S LiPo)
I built this to ride trails and handle like a downhill bike. Got the spring rates for the suspension dialled in, geometry sorted and the brakes have great feel.
The rear wheel is far too heavy right now and is killing the handling. Want to go for a lighter motor and a 24" rim. Any suggestions for a motor would be welcome. Needs to top out at around 50km/h with a decent amount of torque. Weight saving rather than all out power is my priority here. Even an MXUS 3k is overkill for this project but there doesn't seem to be much else available.
It's running just a thumb throttle and killswitch on the bars, needs a BMS. The Sabvoton is on loan while my Adaptto gets fixed.