Hi guys! I've got 4 ANR26650s - 2 of each grade and tested a pair by discharging at 0.5A (0.2C), 5A, 10A and 20A discharge rates. Then i tested the second pair at 20A and compared all 4 cells.
The cells were bought from
Queen Battery
. The first pair was bought 4 months ago and the second - a month ago.
As always, I've tested with
ZKETECH EBC-A20
and a self-made battery holder. It's a PC-connected battery tester supporting 4-wire measuring and discharging at up to 20A.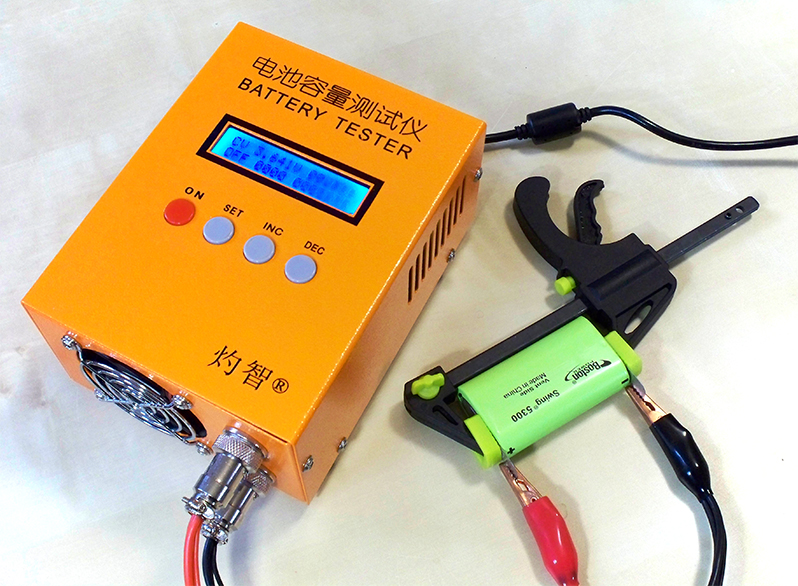 I upgraded my holder by replacing the steel pads with pure copper ones (20x20x0.3mm)
I've followed all the prescriptions of the IEC61960-2003 standard concerning battery's capacity measurement. Before each discharging cycle each battery was charged at standard current (2.5A) mentioned in
the datasheet
to 3.6V (cut-off at 0.1A, which is the lowest supported by EBC-A20). Before each discharging or charging i've held a 1-1.5hrs pause. The environment temperature was 20-25°C (23-25°C to be honest).
Discharge cut-off voltage is 2.0V for these batteries.
The Grade A cell has more information on its wrapper than the Grade B one which only is marked "ANR26650"
and the Grade B's negative pole has no stripes around the metal
The positive poles are identical
The Grade A's results:
The Grade B's results:
Surprisingly enough, the Grade B cell appears to be slightly better than the Grade A one. So let's compare 2 Grade A cells with 2 Grade Bs at 20A to see if that's a rule or exception
It seems that both of Grade Bs are better than the more expensive Grade As. Two pairs are not enough to conclude a rule, but at least we can see that the Bs are not worse than As, if not better. Maybe they have reduced cycle life or they are worse at higher discharge rates - i don't know and i have no way to check that. The maximum discharge current i can apply is 20A which i did. I hope this test was useful for ES members
The video version of this review: