Saturday, May 4th.
Dear Dairy,
The weather has turned really nice the past couple of days and today it's supposed to get to 70°F. Made up a couple of routes on mapmyride.com and I'm going to try to reach Rattlesnake Lake from the backside via Hobart; it's about 65 mile loop. Wish me luck!
Planned route. Blocked about where the green marker is.
12:45 PM: Off to a late start; leaving now.
2 PM: Well here I yam stuck in Hobart. The weather is perfect for riding. Lots of traffic on the roads. But the problem is that Google/Mapmyrides.com show three connecting routes to Cider Falls Road (the back way into Rattlesnake Lake via Hobart) and they are all dead ends.
2:45 PM: Checked on last route and there's a sign that says ABSOLUTELY NO TRESPASSING/VIOLATORS WILL BE PROSECUTED with a locked gate and barbed wire; no way to get passed that barrier even if I wanted. Homeland Security to the extreme. I don't know this part of the realm very well, so I'll just thread my way back somehow.
4 PM: Still on the road. Meandered back to Issaquah and took West Lake Samm (road) back towards Redmond. It's getting late and last call at the Brewery's BDay party is 8 PM; not much time to get cleaned up, walk to the brewery, and have a pint; I'll just go direct and drink juice.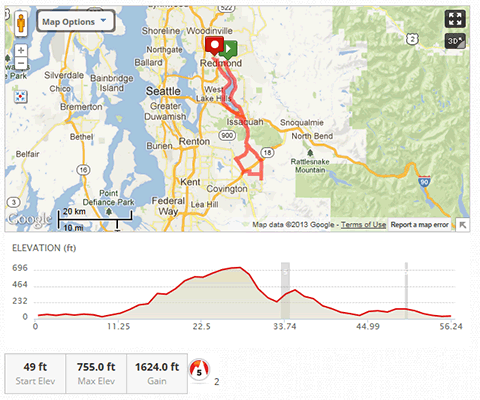 Ad hoc route. A venturesome way to get home.
6 PM: At the Brewery. Crowded, good band, lot's of pals I haven't seen in a while. One of them couldn't stand to watch me drink water anymore so he offered to give my bike a lift home in the back of his truck.
I ordered two pints
.
7:30 PM: End of a great day. 58.4 miles. Conspiring to go out again tomorrow.
Cheers!
KF