This is not a discussion thread, just add links that have details and/or pics. As more of these EVs are involved in wrecks, their battery packs are coming up for sale at surprisingly affordable prices.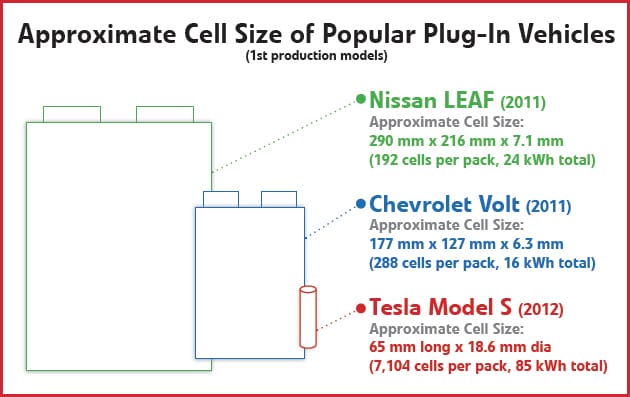 Cell dimensions (all in millimeters):
Tesla-3, cylindrical 21700 (21mm X 70mm)
Tesla-S, cylindrical 18650 (18mm X 65mm)
Chevy Volt______
177 X 127 X 6.3
Zero Motorcycle:
230 X 161 X 6.0
___(2013 to today, earlier cells are different)
Nissan Leaf_____
290 X 216 X 7.1
Chevy Bolt, xxx
Chevy Spark, xxx
Kia Soul, xxx
edit: many of these EVs are rare. Due to the small volume available to mount a battery pack in an ebike frame, high-performance can only come from a high-amp cell. It is looking like the Volt and Zero have the best options for hot rod ebikes, and the Zero is also rare. Use what you can affordably find, but...it's looking like the Chevy Volt is the battery pack we most want to find, for hot rod ebikes.
xxxxxxxxxxxxxxxxxxxxxxxxxxxxxxxxxxxxx
2011 Nissan Leaf
Gen-1 uses flat foil cells from AESC, that are packaged in metal cases. These modules have four cells each in a 2S / 2P configuration. A full Leaf pack has 48 X 2S-modules (96S), so 393V if charged to 4.1V per cell, and a nominal 346V at 3.6V. The metal module case dimensions are 303mm X 223mm, and 35mm thick, each cell is 290mm X 216mm, 7.1mm thick.
http://hybridautocenter.com/HAC4/index. ... Itemid=631
Each metal module "can" can be easily re-configured as 4S / 1P if you like, or 1S/ 4P
Chemistry is cathode: LiMn2O4 with LiNiO2, anode: graphite
http://www.eco-aesc-lb.com/en/product/liion_ev/
Here is a video where the metal case is opened up to access the individual cells (inside is 2S/2P = 4 cells). If you don't want to open the cans (so you can still use the stock connectors), each module is nominal 7.2V, and 60-Ah, each cell is 3.6V / 30-Ah.
https://www.youtube.com/watch?v=VeTxXkBAc60#t=7m3s
Great info from MarkZ
https://endless-sphere.com/forums/viewt ... 62#p773858
Long thread from ES on Leaf cells
https://endless-sphere.com/forums/viewt ... 14&t=52162
From Miro13car:
2016 Leaf uses 8-cell modules, 41Ah rated cells
Here's a video of converting a Leaf pack to a 52V / 14S off-grid RV solar-charged pack.
https://www.youtube.com/watch?v=LV8fyzOTjsk
xxxxxxxxxxxxxxxxxx
From Juan Trujillo
the Volt's and Leaf's respective battery packs have nearly identical chemistry, both using a lithium-manganese cathode. They both have the same sensitivity to high temps. Out of all the various lithium cathodic chemistries, lithium-manganese is the most heat sensitive and has the highest and fastest rate of capacity decay and degradation at higher temperatures."
The Leaf's battery cell is manufactured by NEC, is a pouch type cell with stacked elements, a LiMn2O4 cathode from Nippon Denko, a graphite anode from Hitachi Chemicals, a Celgard PP dry separator, and an EC type LiPF6 electrolyte from Tomiyama.
The Volt's battery cell is manufactured by LG Chem, is a pouch type cell with stacked elements, a LiMn2O4 cathode from Nikki Catalysis, a hard carbon anode (which is more robust and has better/longer calendar life properties than the graphite anode in the Leaf's battery cell) from Kureha, a Celgard PP dry/SRS separator, and a PC type LiPF6 electrolyte produced in-house by LG Chem.
The Nissan Leaf 2014 and earlier cells are 3C, 2015 and newer are 10C. The newer cells have been used at 90A without harm.