Joined

Apr 1, 2016
Messages

458
Location
About 4 months ago, I started to read about e-bikes. I didn't have a clue what I was getting into so I searched through the pages of the Endless Sphere posts. It is a jungle of info, and I'm starting this topic to help potential e-bike builders make their life a little easier.
First of all, you should know that this is fun and rewarding hobby, but it is not cheap. If you plan on using an e-bike for basic commuting, then you will be relatively happy with installing BAFANG kit to the bike that you already have. This will be your least expensive option if you consider time and money. 1000W kit with an OK battery will set you back about $1200. You will still need to know how to remove the BOTTOM BRACKET from your bike and install the kit. Also you will have to figure out how and where you will install the battery. That is what was recommended to me by an experienced builder.
I decided on getting the GNG kit because I wanted to learn more and have the flexibility to change the kit to my preference.
The kit, including controller, hardware and shipping was $630. The kit arrived well packed from Hong Kong in 6 days.
You will still need the battery ($375+shipping) with charger ($79.95) and CA3 ($130+shipping) with shunt ($20). I bought both from LUNA CYCLE. Please note that Cycle Analyst will make all the difference in the world and is worth every penny. It will smooth out power delivery and make your drive train very happy.
I installed it all on the like-new 2005 Giant Trance 2 that I bought on craigslist for $500.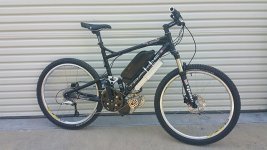 I think that mountain bike is a way to go.
Now the big question is, am I happy with the final result? YES
Would I recommend it to others? MAYBE
First of all, it is a Chinese product and it is unfinished. Stainless steel mounting brackets (.105" thick) and stainless steel guards (.043 thick) are razor sharp.
You will need to file all sharp edges or you will be sorry.
The mounting bracket that connects motor to the bottom bracket of the bike is bent too wide, and small washers were used to fill the gaps.
This was not adequate. I had to make thicker spacers so both sides of the bracket were parallel to each other.
That produced another problem - mounting bolts couldn't reach nuts all the way.
I counter-sank the bracket and machined the bolts to match, in order to solve that problem.
One of the bolt's head was crudely ground down, so that the head was lower. This was done to produce clearance between the bracket and the chain ring mounting bolts; kind of pathetic. The countersink bolts should be used in the first place.
Triple chain rings, 2 for the bike chain and 1 for the go-cart chain are connected with 4 bolts. 12 spacers (5 mm long) between the chain rings were saw cut (low quality).
5 mm spacing for the bike chain is too wide. I machined all new spacers and made the bike chain ring spacer 4mm (.157") long. So I made four 10 mm spacers and four 4 mm spacers. I had to shorten the chain ring mounting bolts to accommodate.
I machined all other spacers to streamline mounting of the guards and attaching the front of the kit to the frame. (I don't like the hose clamps attachment idea) This also allowed me to install bolts deeper and install counter-locking nuts.
I removed and adjusted both freewheels.
I'd never disassembled freewheel before, and I lost a few balls on my first try. I ordered 100 extra balls from McMaster Carr and finished the job.
Both freewheels had a bunch of low quality grease inside. Once I removed the grease, I could tell that freewheels were too sloppy. I removed one spacer from each freewheel, and that did the trick. After that, slack was .003 to .005" instead of .022 to .025".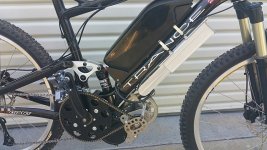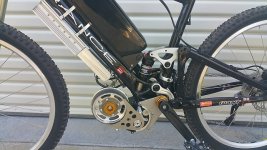 TBC.