Joined

Aug 25, 2010
Messages

760
Soooo.....
I'm now a two year long creeper, I've poked my head in here and there, a couple times to be reminded of my ignorance which was fair haha.
I started asking for advice on a Cyclone build with Headways custom built into a pack, and was quickly pointed towards lipo and rc. It is really interesting how as you learn through reading this forum layers peel away like an onion; i will say that it would be more efficient if someone organized a definitive "truth" thread signed off on by respected members, but it was certainly fun to figure it all out myself through reading of other peoples mistakes. This, my first pure ev build will not truly push the envelope or develop any new knowledge
but I am extremely interested in the rc builds, the torque controller design, the gearboxes, the battery boxes, custom frames, all of it. One day, when I have more cash
So, I have this bike (identical to this pick, although this not mine per se)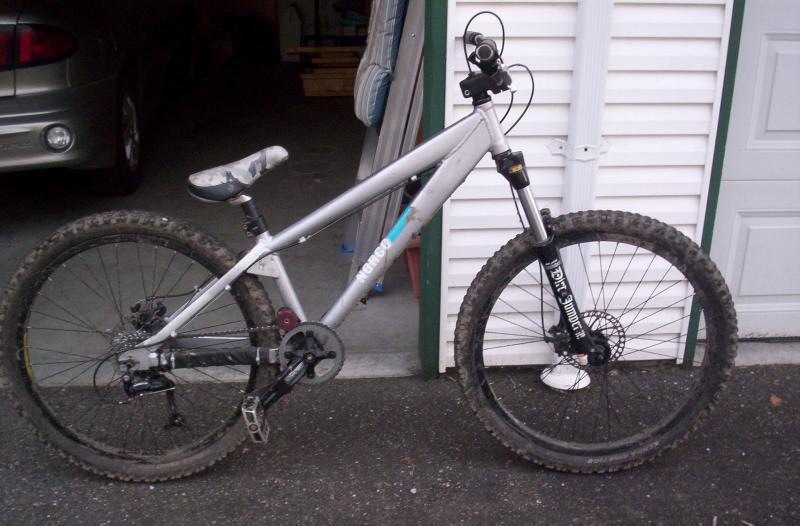 Im planning on something fairly extreme. I want to be able to reach the 40mph club with some room to spare. I want to be able to ride it in all weather all year in Ottawa Ontario, so it has to be essentially weather proof. I have a commuter route to take to school which is almost exactly 12 km each way, so 30km range to give myself room. I'm not going to pedal, and the bike will only be running for about 15-20 minutes at a time for the commute. I will be using lipo, almost certainly in a backpack. I'll get one of lyens 18 fet 4110 controllers, a hyperion 1420i Net3 run off of an ebay ps, ill run 100v 15ah of Turnigy 5000mAh 6S 20C Lipo, ie 12 packs in 24s3p. 1500 watt/h gives me a max allowable average of 50wh/km.
After many days of reading, I have settled on the Crystalye x5000 series for their ability to thermally ignore the kind of watts i want to shove through them. RC matt shumaker style would be nice, and i salivate over rodags recent build, but such luxuries are too much for me. Instead i will go hubmotor and loose the gearing in favor of simplicity and regen (hey, 5-10% is still something). This will definitely be a rear hub with torque arms. I refuse to run a 20 inch wheel on a 26 inch bike; i could see myself going to 24s and using motorcross tires like doctorbass has recently adopted, but again at the moment such prices ellude me. So I'm left with choosing between the x5303 and the x5304.
Now, the 03 i know is an amp whore; icecube reports that due to its efficient rpm being so high, on a 26 inch rim it tends to never reach no load speeds and drop in amperage. I beleive his conclusion was to go for 100v to see the biggest drop possible and to deffinetly opt for the 18 fet to feed the motor what it really needs. I know there is a commuter build on here that runs his 26 inch 03 at 48v and still sees 50km/h although i dont think very efficient.
The 04 at 100v will be fast enough and torquey enough in a 26 inch wheel to satisfy me. It will be more efficient and a lot less hard on the controller. It will more easily conquer hills. It will perhaps however not have quite the same rush speed fear since it will top out much sooner then the 5303.
The only other consideration is the price; there is a second hand 5303 on sale for 250 whereas the 5304 from ebikes.ca is 525. I'd have to pay to get the 5303 relaced into 26 rim.
What should i go for? Let me say that my primary concern here is simple awesomeness, so if you want a guiding light in terms of my preference, pick the more awesome one. There are clearly a few ways to accomplish what i want, but i'm not worried about safety, my ability to ride this, my ability to build it, lipo in a backpack, or replacing phase wire.