Joined

Aug 8, 2008
Messages

5,444
Location
.
.
I have been pounding on this roached 9C for half an hour. It is an original from back in the day, bought it from Justin.
.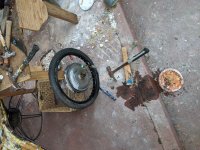 Back then they were polished Aluminum. Fast motor intended for a 20" tire. After serving many years on many bikes, it sat in the woods for 4.2 years and turned powder white. After that it sat (in the bushes) and rolled (here and there) for another 4.2 years, and as it stands, it is soaked in penetrating fluid.
At one point, a few years ago, I did get it turning (it was frozen then) and fitted it to the rear of my Trike (it is a Front motor, 12mm axle). This was the trike that had its legs spread for the original CroMotor, another story all together... but it fit.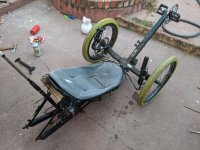 The damn motor wont budge now. . . so I drilled a hole in the side and sprayed an overwhelming quantity of Blaster in there.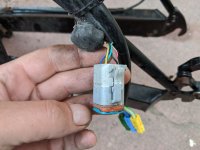 In other news, the Anderson Connectors lasted over a decade with no indication of UV degradation. Wish I could say the same about the Deutsch. Technically it is NOT a Deutsch, but an Amphenol A-Series knock-off... but either way it is clearly showing "crusting" and it is not in any way oblivious to the UV.
For now I will blame Amphenol, until I can repeat the test with a legit DT.
-methods