The large HXT style outrunners seem to have some problems with currently available sensorless controllers :? :
1) They destroy sensorless controllers regularly
.
2) They often have syncing problems when the throttle demand rises too quickly
.
3) They suffer from unpredictable startup

and poor slow running.
I am rapidly forming the opinion that robust sensored controllers are currently the best things to use with these motors.
There are two basic ways of fitting the required hall sensors to these outrunners -Internal or External.
Both methods have been tried and proven by a few brave members here (and I am very thankful to them).
Edit:
Update- When using the Turnigy 80-100 motors beyond about 3kw,
the Internal hall sensors seem to give better results
.
Probable explanation is that, at high power settings, the stator fields are interfering with the externally placed sensors.
http://www.endless-sphere.com/forums/viewtopic.php?f=28&t=20588&start=585#p382018
...and not just my experience...
toolman2 wrote:
ive got some halls mounted up inside the big turnigy "130 kv" motor, and its now running well.
no luck as yet with them outside -allways noisy or maby interference from the coils magnetic field, hopefully the photos come up to show it.
Thud wrote:
For some stupid reason I had my brain totaly stuck in that "external" hall sensors would work for these big motors.
If burtie had politly said: Thud, you stupid tit! Put halls inside your motor & report back soon! We would have been untouchable in Tuscon. (at least thats what i say .LOL)
End update
Internal:
You can glue them into the stator slots.
Relatively easy but not adjustable. Here is a link to my experience so-far with this method.
http://endless-sphere.com/forums/viewtopic.php?f=28&t=12768&start=60#p225084
External:
You can position them around the outside of the can.
More work, but it means you can fine-tune the timing to get the desired results.
Here is what I did: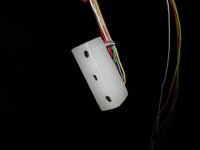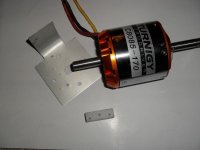 OH -NO!!!
http://www.youtube.com/watch?v=XVX5T7JkBDA
[youtube]XVX5T7JkBDA[/youtube]
Burtie