Joined

Dec 5, 2011
Messages

4,232
Location
Source: http://electrotransport.ru/ussr/index.php?topic=30259.msg674380#msg674380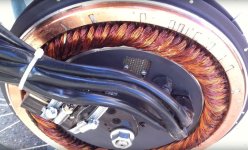 Here is a interesting one. A very first Protoype for a asynchronous hub motor. He states that it is the first made in the world for ebikes.
Using a Curtis controller the bike propells to a stable 75Km/h at 48Volts.
No magnets so nothing to destroy(besides windings) when overheating. The developer says that the weigh is 18kg and the motor is rated at 20kW nominal and 200Nm, I dont know how much truth it is in that statement, but this kind of motors could be very interesting to traditional ones we use today.
You should also have a smooth rotation without any cogging and drag, he talks about it at:
https://www.youtube.com/watch?v=cu5VBqep1sM&feature=youtu.be&t=985
Flame on!
[youtube]msTVUpMSEtk[/youtube]