Joined

Feb 3, 2010
Messages

4,064
Formerly:
On the Road | Going to California 2011
Ref:
On the Road | Going to California
(2010)
Ref:
Pusher-Trailer: A Bicycle-Frame Solution
Ref:
Phoenix Rising: P1
- Build thread of the bike that made the journey.
SUMMARY ADDENDUM:
The actual trip begins on Page 12
Maps of Each Day
|
Trivia & Stats
|
Debrief on what worked &...
It's official.
Today I ordered up the last batch of batteries — the last major capital expense (after machining) left on my list of todo's. So let's get this thread started; pull up a chair, grab a beer, and listen to my yarn
[youtube]-cfc3rCQOuU[/youtube]
EDIT V2: I found a little-known backwater band that could help us set the theme :wink:
This is a lifelong dream
, well — one of many. The first road trip I took was back in 1977; short story is I helped my brother fix his
Honda 175 Twin
. Later he bequeathed it to me for my birthday; it was completely unexpected. After my school commitments were over and my summer job prospects with the US Forest Service played out, I managed to save up some goodly money — and with a few weeks left before going active duty I took a road trip that was about 1300 miles long — that is… before the
piston blew
just shy of Death Valley Junction…
but that's another story
. I've been fixated with road trips ever since.
Goals
I've tried twice to make a go of this; let's hope the 3rd time is the charm! The goal is to ride my ebike from Redmond, Washington to visit family in northern California, and ultimately to the spring that sprung me in Fresno. We all come from someplace; Fresno ain't so bad if you like rainless summers exceeding 110°F in the shade, that and endlessly gray and damp foggy ones in the winter. Actually it was rather convenient if you were in the Boy Scouts cos there's lots to do and it made for a great launching point being centrally located in the state.
But that's another story
.
The trip down will follow the backbone of the Cascades in much the same way as I did last year (2010) with a bit of a twist on some slight changes in path. From Redmond, it's southbound switching east of Mt. Rainier over Cayuse Pass, left of Mt. St. Helens and right of Mt. Adams, crossing the Columbia at Hood River into Oregon, staying left of Mt Hood, Three Sisters, and Crater Lake before reaching Klamath Falls.
Last year I took the east route around Medicine Lake on Hwys 39/139, though this year I will try to thread the needle between Mt. Shasta and Medicine Lake and pick up Hwy 89 north of Burney. Medicine Lake is the largest shield volcano in the lower-48; it's larger than Shasta by volume… and I've never been there!
After picking up Hwy 89, instead of bypassing east of Mt. Lassen Volcanic National Park — I will go through the park, maybe even take a couple of hours off and climb that old mountain like I have so many times in my tiny youth. Then it's onward to Greenville, Quincy, and Plumas-Eureka State Park.
Instead of heading to Sacramento via Hwy 49, I'll stay on Hwy 89 all the way through Lake Tahoe, then cut over the High Sierras on Hwy 88 and pick up my old friend Hwy 49 in Jackson. I've taken this route many times in the past; it's spectacular on a motorcycle!
From Jackson, it's south on the 49'er Trail down the foothills all the way to the terminus at Oakhurst; gateway to Yosemite. From there it's south on Hwy 41 to Fresno. I'll plunk around my old haunts and scare up my pals for some good old fashioned beer drinking, BBQ, and cannon-balls into swimming pools.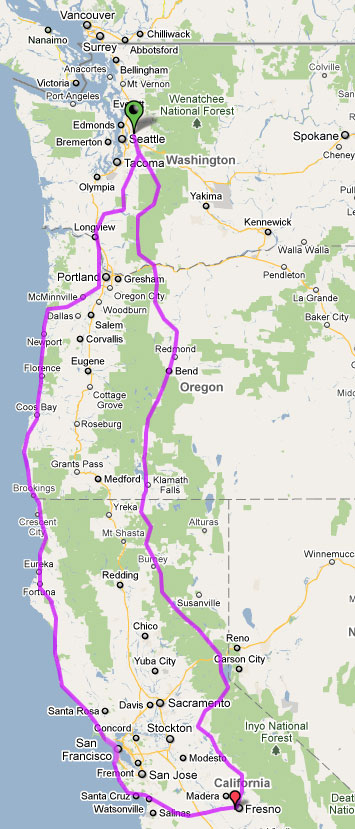 From there the Plan is to head west over the Coast Range to Hollister/Watsonville and pick up Hwy 1 through Santa Cruz to San Francisco. Maybe if I'm lucky I'll get to meet up with some ES-kindred folks.
It's pretty much Hwy 1 or 101 all the way north after that through the Redwoods, past Coos Bay, up to Lincoln City, then cut over to Portland, and then follow loosely follow I-5 north, slipping past Mt. St. Helens and Mt. Rainier and back into Redmond.
Alternatives abound though this is the basic plan. It's 2000 miles. Southbound is loaded with high mountain passes. Northbound could be foggy and damp; they get their best weather in the fall. Really though — it's the Redwoods and rainforest I wish to see. The two most difficult days will be the first and the last; both are over 220 miles with hill climbs > 8000 feet. Last year I went 173 miles on 15S12P; this year we're doubling the batteries — and instead of a hardtail with front shocks, I'll have full-suspension DH frame with a custom trailer-bike-pusher carrying most of the battery load and my camping gear.
The only think I want on my back is a camelback, maybe. :wink: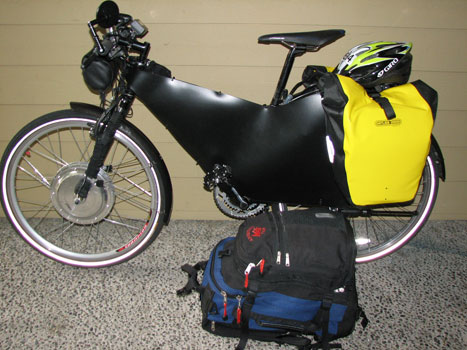 P0: The ebike that made the shorter trip last year.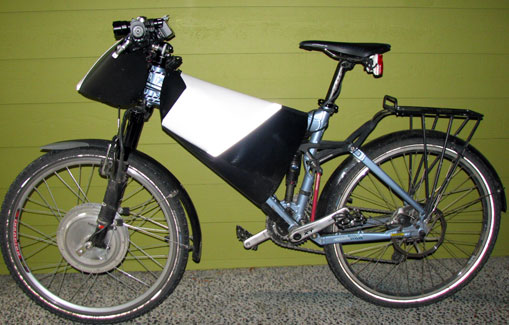 P1: Winter version of the ebike going this year. In process of being modified to pull a trailer.
OK, so that's the prelude. I'm letting the other threads manage the storytelling of their respective bits. This thread shall be more tied to the journey with pictures. The target departure date is the last week of June with the goal of being in Westwood California on July 3rd; my cousin is racing his hotrod snowmobile on the grass. I asked him "
won't that damage the skis?
" and he said "
hell, they'll never touch the ground!
" This I gotta see!

Sponsorship
I'm going to toss this out for a sniff. I ran across a pal who says I should go for sponsorship when I do these things, you know — pick a charity, raise awareness, that sort of thing. I'm just a little curious what sort of charity would be EV-centric. Maybe that would make for a good poll. OK, here's the poll:
Charity Events & Sponsorship
. Give us your opinion.
Making plans,
KF
Title EDIT #2: Ack! Mischievous gremlins are afoot!
EDIT #3: Added summary addendum.
EDIT #4: Bike build thread added & corrected flaws introduced from botched db transfers.