So new here.
I have had an electric scooter for about 3-4 years now. Custom Made.
Here is what i know.
72V 30ah LIpo Newhop Battery Co.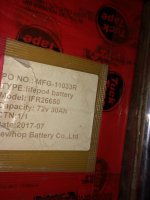 the bike can go 40kmh with me on it.
bike was built on a 1981 honda trail 90 frame.
The BMS has been replaced once already.
Now i am having an issue where the bike will not work when connected directly to the battery. When the battery is connected and i plug the charger in than the wheel will spin.
When i turn the bike on when it is only on the battery power ...immediately the voltage drops to zero and than slowly climbs up. It does not work. The wheel does not spin, no lights. Battery also smells, and i noticed a brown spot on the BMS.
When i plug the charger in the bike wheel spins and the lights work.
I am a Battery newby. I will appreciate all help i can get.
I have a fluke volt meter.
Hopefully this is enough info to help.