Joined

Sep 11, 2010
Messages

7,809
Location
REI Novara Bonanza Aluminum Mountain Bike Before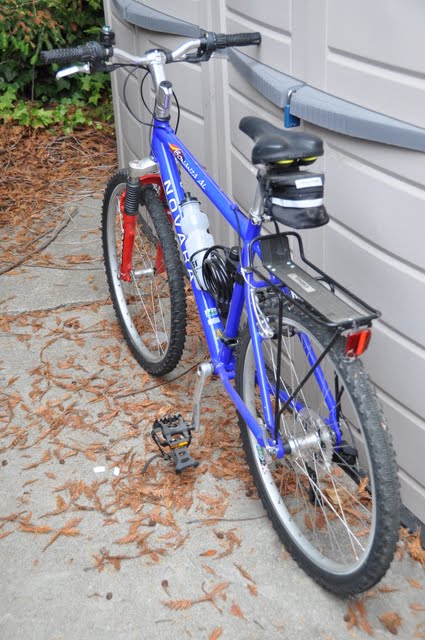 In Progress (working but not completed)
This Bike's Photo Album
https://picasaweb.google.com/115808145206794427034/BonanzaALMTNBikeEbikeProject?authuser=0&authkey=Gv1sRgCIyLjb_NgLvnEg&feat=directlink
Details
https://docs.google.com/spreadsheet/pub?hl=en_US&hl=en_US&key=0Av_rcFhwbIYVdEpvUHdndTVDZU9tZmpicndyY1lDN1E&output=html
How we got here:
Every year or so I get interested in assembling an e-bike for my commute. But with a 13 mile each way route with lots of climbing it has never appeared to be practical. However that seems to be changed now due to better batteries (lithium), controllers (FETs) and motors (magnets). So now I'm contemplating it again and have read a couple thousand posts on here in the last few days (thanks for all the info!).
I'm a Software and Electronics Engineer who used to ride motorcycles and recently designed and built a microprocessor based high power (15A 60V) flashlight controller using A123 and LiMn cells, so the technology in this project is somewhat familiar, but this is my first e-bike.
So I would love to get some comments on the practicality and specifics of doing this project.
On to a few details. I have a pristine aluminum mountain bike that is a few years old from REI (found the receipt, it is a 2000 Bonanza AL, and I estimate it has less than 50 miles on it - I didn't ride it much). It has aluminum forks with Zokes front suspension, SRAM 5.0 9 gear rear cluster and twist grip SRAM 7.0 shifting. It has V brakes but it looks like there are mounts for a disc on the front forks but not the wheel. No apparent disc brake mounting holes on the rear frame.
I found the Bike's specs online here:
http://www.rei.com/product/646002
(no longer valid)
I don't have a lot of free time so will probably not build much to start with but use good quality existing modules and kit parts. Though I do like Anderson Powerpoles a lot more than some of the other connectors out there and I have the crimper.
I would like to commute to work via e-bike a couple days per week, weather permitting. But here in this part of California the weather is pretty good a lot of the time.
It would seem to me that with my hilly route (about 1500 feet of climb in 13 miles up to an almost 15% grade, rough pavement, lots of curves (25 mile speed limit for almost half the ride), desire to get some exercise but not be a sweaty mess when arriving at work, being out of shape, and desire to be able to go 20 mph or so over most of the trip that I should probably:
use a rear geared hub motor perhaps 500W (something that climbs well)

which would require that I convert shifting to 6 speed rear (to have room for motor)

use a thumb throttle to clear the twist shifter (but would prefer half-twist throttle and change the shifters)

use new brake levers with cutout switches (separate control for regen?)

use a paralleled pair of 36V 10AH LiFePO4 batteries for balance and flexibility and 20AH on board (not planning to use 72V but that would be an option)

have a charger at work and at home (might need two at each place)

convert to disc brakes (in front at least) (may not be practical in rear)
I look forward to your comments on my project plans. Suggestions for specific motors, controllers, kits, etc would be appreciated.
Thanks in advance,
Table of Contents
First Test Run (Rear Wheel Drive) page 6
System Weight 63 lb page 13
Marin stress test ride, First Commute run page 18
2WD Upgrade planning begins page 21
2WD goals, fork selection page 22
Throttle Manager, changing to PhaseRunners page 23
New Shifters, PhaseRunner RWD Testing page 24
2WD First Run, Configuration Summary page 25
Data
Suntour AP47 Original Front Chainring 9 speed 42-32-22