Joined

Jun 10, 2018
Messages

50
This donor bike is a rigid commuter that I welded up several years ago and recently electrified. It has
- Bafang G310 rear hub motor
- Flipsky FSESC 4.20 controller (based on VESC 4.12)
- 12s3p HG2 battery with Vruzend 2.1 caps and DieBieMS BMS
- CAN bus display with battery and controller data
- Joystick throttle underneath drop bar tops
- Single MDF backplane for electrical components in front triangle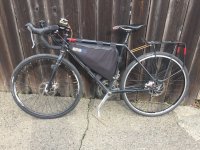 I've used 1/8 inch medium density fiberboard (MDF) to create a rigid mount for the bms and controller. The batteries rest on the bottom of the padded bag. I've drilled mounting holes and cable tie holes to keep the wiring fixed in place. All of the connections for the display, throttle, and ignition switch are at the top corner of the board.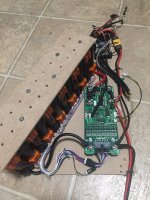 The display takes advantage of the CAN bus outputs from the controller and BMS. The DieBieMS has two CAN bus connectors. One is wired to the controller, the other to the display. The purple board is a custom PCB with the CAN bus chips and a real time clock. The display is from Adafruit. It mates with an Arduino mega and has switches and a SD card built in. The display has four wires, two for 5V power and ground, two for CAN bus high and low.
This allows me to monitor the balance of my pack any time the display is on. The two bottom bars in the photo are the low and high cell row voltages. If the pack is drifting out of balance, it will be visible on the main dashboard. I've also implemented a screen that shows the high and low cell row voltages as well as the pack current and battery temperature to allow me to monitor the battery charging.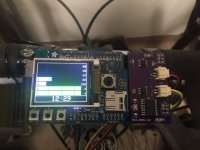 Currently the bike is throttle only. I'm trying a joystick throttle mounted on the underside of the tops of the bar. I pull the joystick forward with my fingers so it feels like a normal throttle motion.