Stealth_Rider said:

teklektik said:

See:
"6.10 Monitoring Charge Current"
"Appendix A. Calibrating the Cycle Analyst RShunt Value"

6.10.1 requires that the controller be modified whereas comparing Satiator AH in to CA AH used doesn't require modification. You do, however, need to have a Satiator :lol:
Where I was going was to merge the two hook-ups in those sections so that you could use the Satiator to do the calibration.
Instead of the normal business of adding the extra wire to the controller so the CA can monitor the charging current -- like so: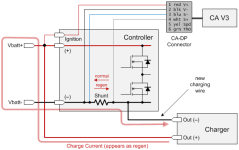 You might instead temporarily hook up the charger like this just to calibrate the CA -- leave the battery connected normally, unplug the phase wires from the motor, and use one phase wire to connect to the charger:
(This is unsuitable for normal charging because of the altered termination voltage.)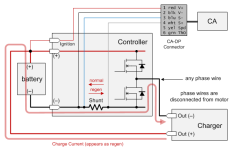 The only issue here is the Satiator current display which only goes to 0.1A. This means you are not going to get more than about 1-1.5% accuracy in your calibration because of the display precision. You can likely do better using the Ah technique because the Satiator is much more precise about Ah's that the available precision of the Amps display. But this is pretty quick and the results will give serviceable results.
That said, if you have a DMM with more digits of display precision, this technique should yield quite good results with any charger as a variation of the standard constant current calibration technique called out in the Guide Appendix.