Just a concept for the moment, but more to come when I get time to build it.
Starts with two steel framed bikes. One an old USPD currie frame. Cool for it's Electric logos, and geometry that is built for a 1-1/8 headset suspension fork.
So that gets you front suspension, and I have semi decent forks to put on it. The second frame is a fairly hard to find item. A steel frame with a not too horrible rear alloy swingarm. Vintage mongoose stuff, in the poor mans DH category.
Put together something like this....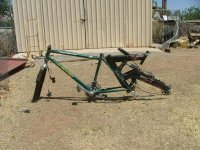 Adjustments and additional cuts will be made to get the rear dropout height correct. Then weld the two together. Much of the weight will be borne on this connection, where the bottom bracket studs will be welded into the other bikes dropouts. Then weld the other end, near the seatpost.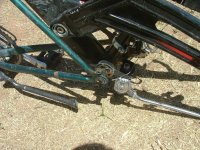 Then weld or bolt on more steel, to make the traditional longtail rear rack and huge panniers, using what used to be the top tube of the mongoose bike for it's main support. Possibly relocate the seat back a few more inches and use long backswept cruiser bars.
Lots of room in the green frame for batteries up front, or even a chain drive motor where the rear wheel was on the front frame. For now, I have a 5304 in 24" rim laying around.