Joined

Jun 10, 2012
Messages

238
Location
I've got a old Gaucho Power Wheels from the early 90's ish.
Originally it was powered by a 12v battery with a on/off switch pedal and high range, low range and reverse.
I've kept the gear selector with high/low/reverse...and added a 1000watt 48/60v ebike controller and a 0-5v 'gas pedal'.
It's now being powered by either one or two 18v Ridid power tool batteries (depending on how fast I'm letting the kids go).
I replaced all the wiring to 14Ga wire, added cooling for the motors.
I have a 30amp mini fuse it the middle (it would generally blow a 20 amp)
The 30 amp fuse does not blow...but even just running one of the 18v batties things get hot. Wires get hot to touch and I noticed the FUSE has started to melt!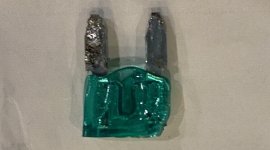 So...what do I do? Would going to 12Ga wire help cool things down? Should I limit the accelerator pedal travel to limit power output? Is the OEM high/low switch an issue (I have no clue how it does high low as its somehow cutting voltage in half, even if running on only one battery)
Looking for options as I don't want to have any issues. I'm thinking the high/low switching is an issue with some sort of extra heat being generated from that complex switching setup.
Thanks!!!