Joined

Apr 25, 2023
Messages

10
Location
Hey guys, this is my first bike build and first time trying to actually document a project so bear with me.
I saw this posted on craigslist and thought it would make for a cool project since it was a frame originally built for a gas motor. After some research, I found that the frame was most likely a CDHpower frame, sold on amazon. The price for this whole package was about the same as I would pay if I purchased the frame new so I figured what the heck and bit the bullet. It came with a few parts, but I only plan on reusing the tires and the front fork.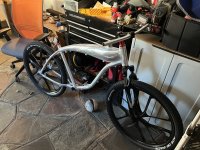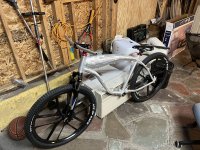 I really like the tank built into the frame personally, and I think I want to run all my wiring that comes form the front, through the gas fill cap and out the bottom to hide them for the most part. First item on the list is to get rid of the ugly wheels that came on the bike.
New Wheel Setup:
Rims - Mavic EX630 rims
Front Hub - Shimano Deore HB-M525A Front Hub
Rear Hub - Sturmey Archer S-RK3
Spokes - 13g Spokes
Spoke Nipples - Sapim brass reduction nipples
Tires - Maxxis Ace of Pace
I have never laced up a set of wheels before but it went pretty smoothly, once you get into the groove, its actually quite relaxing. Finding parts was more challenging than I thought it would be, almost nothing was in stock. I had to source a few parts from the UK like the rear hub and and spokes.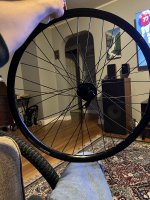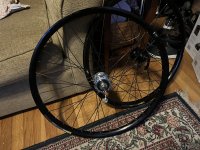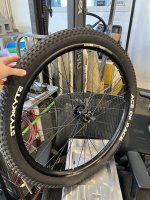 Once I got that out of the way, I learned one of the reasons you shouldn't put 27.5" wheels on a 26" frame. Learning is part of the fun though right? The rear tire interfered with the frame of the bike when it was fully inflated. Not too bad, a set of smooth tires could fix the problem but I'll tackle that in the near future. To finish up the wheels, I decided to lock down the brake setup I wanted to run and purchase the rotors.
Brake Setup:
Rotor - Magura MDR-P 220mm Rotors
Caliper - Magura MT5estop
Pads - Most likely something from Magura but unsure yet
After installing the new rotors, I got to learn another new lesson on why research is important. Coming from a car and motor cycle background, I didn't realize 220mm rotors were considered very big and not all forks can fit them. I apparently didn't take a picture of the front fitment issues so you'll just have to believe me, the disc was hitting the fork tube before the hub was fully seated in the dropouts. Time to start hunting down a new fork, off to ebay. The rear seems to fit fine, tight but fine, clearance is clearance in my line of work (correct me if bikes don't follow this rule).