Joined

Jan 23, 2009
Messages

4,258
Location
finally upgrading from the
GT idrive
i've been riding since '09...
picked up the dh comp a couple months ago, and have been waiting patiently for
kiwi's dropout adapters
. they should be ready soon, so i better get this thread going...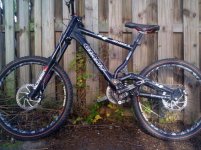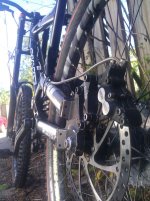 and fooling around w/ it before the conversion:
[youtube]YDuqHIzR6AU[/youtube]
so getting to work, scavenging every centimeter in the triangle...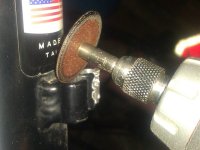 playing with geometry. fresh lipos - i decided to go 20s2p, to use same charger setup, but wishing i went 24s. already have 45A 72V controller (was a spare).
View attachment 2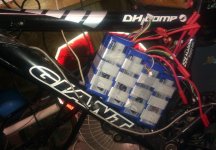 i'm going to use the metal track for the batt case, and cordura for a waterproof cover. and some kind of loop/handle that i can easily lock w/ frame against bike rack.
still not sure if i wanna use the hs3540 or the 9x7 9C. or eventually get a MAC. the idea was to have this a lightweight, high torque, low speed dirt bike, in addition to GT high speed commuter, but i know i'll want to commute on it...
and i'm looking for fat rims, such as the sun ringle double track. and the rim on the hs3540 is nothing special. i know i shouldn't jump that hub, and the bearings already sound crunchy. anyone know of what i can get to upgrade the bearings on the hs3540?
the rear shock (manitou swinger 6 way) is dog doo - has a crunchy spot and sag like an old lady - so i'm looking for an upgrade/replacement. don't really want to pay top dollar, as i'm most concerned w/ bottom out protection. i'm thinking fox dhx 4 or 5 w/ a 600+ coil.
front forks are ok, but could use a service. wished i'd done it already. the bike was used in utah for 3 years by a college kid. and he definitely used it.
not sure if the rear brake caliper will fit w/ the hub. hope so.