Ok so, I watched
this grin tech tutorial
where they advice more or less to drill randomly the motor cover and put the statorade inside.
Now, i never opened my motor so i don't know how it is inside but if it is like this one i found on a guide for applying the statorade: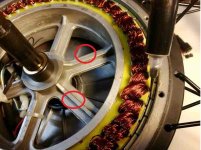 and i insert the statorade for example where i drow the red circles, it will be totally useless.
So.. in the comments under the video to this question made by other users grin answered that "The fluid has a way of finding the magnets no matter where you insert it", but in a case of a motor like the one in the picture, this answer seems very wrong to me
So, what do i do?
i attach here my motor's pictures