Joined

Feb 16, 2021
Messages

260
Location
The following demonstrates one way to covert an eBike rear wheel to a disc brake, but note that this bike was an eBike from the factory, so this method may or may not be applicable when converting a regular bike to an eBike.
The bike is an early Pedego Interceptor and the original rear wheel was a drum style brake. The frame is wider than most bikes to accommodate the drum brake.The bike was operational when I bought it (second hand) and would have been a death trap were it not for the front disc brake because the rear drum brake was awful.
The hub motor started sounding like coffee can full of nuts and bolts rolling down the street, and not much later it died. I might have considered fixing it but since I already hated the brake, I decided to buy a new wheel.
Here's a picture of the old wheel: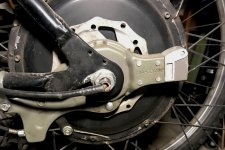 Here is a picture of the new wheel already mounted on the bike with washers added on both sides to center. the wheel in the frame. Note the two factory threaded holes intended to mount a fender: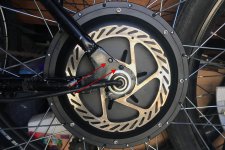 To get started I needed to get a sense of alignment between the caliper and the frame, so I centered the pads in the caliper and clamped the caliper on the disk using a short piece of brake cable to squeeze the pads against the disc: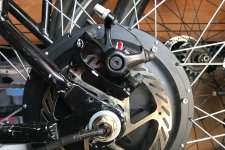 With that in place, using a piece of raw material (3/16 flat aluminum) I was able to determine where the bracket aligned with the frame, and in this case it (luckily) aligned with the outer torque washer being used as a spacer: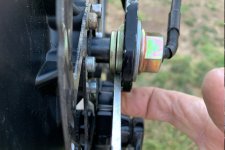 Next, I mocked up the bracket design, but this step is purely optional, it just helped me visualize the design of the bracket.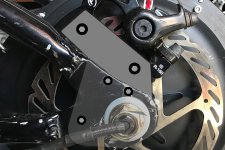 Using a piece of Foam Core as template material I tested my design with something easy to cut out that was approximately the correct thickness: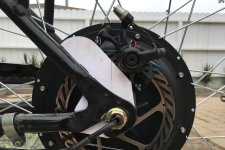 From the rear angle you can see that the template aligns nicely with the caliper bracket (on the left), and rests on top of the frame of the frame (on the right), which will act as a torque bracket when braking (prevent rotation):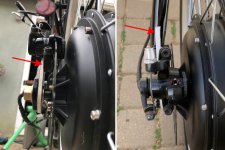 Next step was to cut the actual bracket. Note that before cutting the real bracket I changed the design slightly from a slot to a hole with two flat sides. This will help prevent the axle from turning from motor torque, but I also moved the torque washer to the outside to double up on motor torque rotation prevention. Brake torque rotation of the bracket is handled by the combination of the bracket resting on top of the frame, and two bolts through the frame and into the bracket: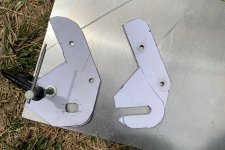 Test fit and final adjustments: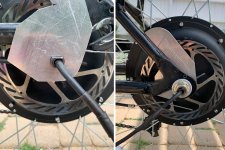 Finished product. Note that I have put 500 miles on the bike since the conversion and have braked hard several times to test the strength of the bracket, bolts, and design: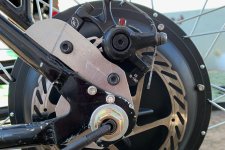 I hope this was helpful for your project