Hey everyone, it's been quite a long time that I've been somewhat fascinated by the idea of an electric Penny Farthing AKA ordinary AKA high-wheeler bike. Not only since it has such an iconic imagery associated with the early development of cycling and would be a fun merging of late 19th and early 21st century tech, but that it seemed like an actually decent candidate for a hub motor given the very small relative rear wheel diameter. And apparently I"m
not the only one on ES
who was thinking this.
This interest was totally rekindled in June when we participated in a Vancouver bike expo and the nice folks from
Caps Bicycle Shop
(vancouver bike store since 1930's) were there to do a presentation on bike history and had with them both an original high wheeler and a 1950's replica shown here.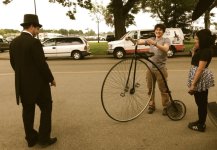 I had thought that my experience unicycling would in some way make me prepared and familiar with riding a large fix gear wheel like this but it didn't translate at all. At first, mounting involves standing on small pegs from the frame of the bike after giving a kick for forwards momentum, and then from there you can reach forwards with one foot to catch the turning pedals and then take the leap of moving your weight onto the saddle.
View attachment 1
Once you're up there, riding becomes in its own way stupidly fun. You have the vantage point of riding a tall bike being perched well above everyone else but with a very visceral connection to the wheel and the road that pedaling directly on a solid rubber tire gives you. The pedaling pushes the wheel left and right and so you need to counter this with the handlebars, at first this was a little awkward but after a bit of riding you learn to push and pull with the arms just enough to keep the wheel straight with each leg stroke. It was actually a bit of an unexpected workout as my arms were more sore than my legs after zipping around block a few times.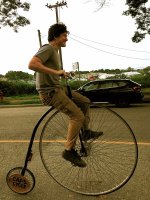 The Grin there is almost as big as my first time riding an ebike. There was something hard to describe that was so fun and thrilling about riding one of these.