Joined

Apr 1, 2009
Messages

494
Location
Hey all,
A new build for the new year coming up. After much thought i've decided to go with a hub motor for this build, a first for me as i usually prefer to run through the cranks.
The main reason i normally go for a mid drive is dictated by the trails i normally ride, or more specifically the monster hills i seek out! :lol:
However there are much flatter, open and undulating trails much closer to my home and some others further south of here which i intend on exploring soon which dont really need the slow speed torque / climbing ability that the Cyclone is capable of, therefore they are the perfect hunting ground for a hubby :wink:
Now i don't have the $$$ needed to buy a Stealth Fighter or Bomber so i've decided to build something that sits in between these two models in terms of spec and performance and hopefully in some ways like weight, exceeds them

Spec:
Frame:
2007 Intense M3 frame, modified front end
Forks
: 2009 200mm 888RCV Bombers
Rear Shock:
2009 Fox DHX5.0, Titanium spring
Rear travel:
241mm
Seat:
2012 WTB V Speed
Seat post:
Carbonfibre
Stem:
Sunline direct bolt on 45mm
Handlebar:
RaceFace Next carbon fibre riser bar
Grips:
ODI Lock-on 90mm GripShift version
Motor:
Crystalyte HT3525 - sensored, cooling holes, wire mod, 3mm re-drilled spoke holes
Controller:
18Fet 4110, 84v / 70a (Cell_Man)
Batteries:
20s Lipo, 15ah - 6 x 10s 5ah Turnigy Nano-Tech stick packs - 1260whr (10ah for now)
Power meter
:Large screen CA in frame just behind head tube
Wheels
: 26" Sun Ringle MTX 33 welded camo rims. 13g Sapim spokes on rear
Tyres
: 2.7" Maxxis Minion DH 60a / 42a, front tyre used on rear
Brakes
: Hope M4, 203mm floating rotors f & r , braided lines
Shifter
: Sram X0 gripshift on LHS handlebar
Derailiur
Sram X5
Cranks
: Shimano Saint DH with Renthal 34t chainring
Chain device:
E*Thirteen LG1 with bashguard
Torque Arms
: 2 x custom with pinch bolts, 10mm thick mild steel
Wheelbase:
1204mm
Target weight
: 35 -38kg.
Final weight
- 35kg with 10ah pack.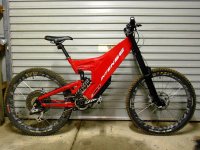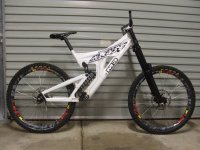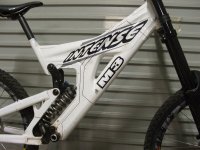 View attachment 4
View attachment 3
View attachment 2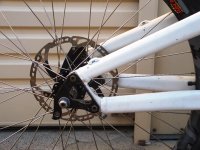 As usual, the frame will be cut and a 145mm high by 100mm wide 3mm aluminium box will be TIG welded on the front to hold the batteries and bolt the controller underneath. Two lipo sticks will sit the full length of the frame with a group of 4 sticks sitting above them in the middle in a 2 x 2 pattern. Overall side view won't look too different from the standard frame apart from the controller and rear hub
I won't get much done on this build 'till i finish a frame for a fellow ES member that i've already taken too long to get through as it is for various reasons.
Once his frame is finished, i'll be all over this build as well as transferring the Cyclone kit from my Specialized to my original Norco frame along with similar frame mods to it too.
Frame work will probably commence in mid Jan 2012

Paul
Edited a few times to update photos, parts list and specs, fix typos and edit title.