Joined

Dec 21, 2007
Messages

12,909
Location
The bare de-spoked MAC geared hub can be purchased from cell_man at em3ev.com for $250 + shipping. This link is for the bare motor, but he also has full kits with the hub laced to a wheel.
http://em3ev.com/store/index.php?route=product/category&path=40
He stocks them in 5 kV's (RPMs per volt), listed speeds are at 36V in a 26-inch diameter tire, and 48V will provide a roughly 30% higher speed.
_6T - 45kph (28mph)
_7T - 42kph (26mph)
_8T – 39kph (24mph)
10T – 32kph (20mph)
12T – 25kph (15mph)
The original tear-down I did was to convert a MAC from a shell-drive to a shaft-drive. Be aware of that if you reference the original tear-down, some parts of that thread will not apply to a stock MAC hub-motor:
Part-1
http://endless-sphere.com/forums/viewtopic.php?f=28&t=45245&start=450#p719603
Part-2
http://endless-sphere.com/forums/viewtopic.php?f=28&t=45245&p=735959#p735959
The threads on the axle are 14mm X 1.50, 35mm long. The cylindrical smooth un-recessed central portion of the axle (which rides on the bearings) is 17mm-diameter. Six screws hold on each of the two side plates, 12 total, chamfered neck, flush-head Phillips, 4mm-0.70, threaded portion is 5mm long
The disc brake flange is the common ISO standard. They are six holes in a circular pattern, BCD-44mm, 5mm X 0.80 (common M5), 7mm deep.
When you remove the flat side plate from the FW side, you can see an aluminum collar around the shaft, it is held onto the stator core by six round-head Phillips screws, thread is 4mm-0.70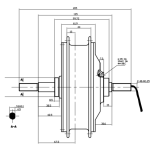 View attachment 4
The six side-plate holes look like they are evenly and precisely spaced out in a pattern, but...their positions are NOT exact. It is best for each motor to be re-assembled exactly as it came apart. In order to make re-assembly fast and easy, I marked both side-plates with shallow drill-dimples.
First order of business is to remove the side plate screws (size 4mm-0.70, 6mm long threads), so I realized it would be much easier with a solid stand for the motor. The space between the 2 X 4 wood side walls (for the planet-gear protrusion on the non-freewheel side) is 4-3/4 inches square (120mm), and the central hole on the base-plate is 2-inches diameter. Base is 9-inches square.
I almost stripped the first side-plate Philips-head screw I tried to remove, so I dug out my "impact driver". You hit this tool with a hammer, and it will untwist the screw while at the same time it also pushes down to prevent the Phillips slots from stripping out. If these threads have thread-locker fluid on them, the impact driver will help quite a bit. The impact driver is one of the few cheap tools I bought at Harbor Freight.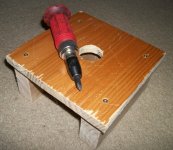 steel sun gear 27T
planet gear bearings 608Z, 8mm ID X 22mm OD X 7mm
Plastic planet gears, 54T
Steel ring gear, 135T
stator diameter (air gap) 5-5/16 inch / 135mm
Stator tooth width 22mm
large central bearing #6205, 25mm X 52mm X 15mm
36 stator teeth
32 magnets, 23mm wide, 14mm length following the rim
if you buy a MAC from cell_man at em3ev.com, he has begun purchasing MACs wholesale with thinner lams, so a NEW MAC (as of June 2013) can be used with higher volts/RPMs. The older version worked well up to 48V, new version should work well at up to 72V/2,000 motor-RPMs.
We now have a new and improved version of the MAC motor as well as the standard MAC motor. Our new version MAC now includes the same mods as before, both the upgraded phase wires and LM35 temp sensor, but now also includes an upgraded stator which offers improved efficiency and the ability to operate at higher speeds than were possible with the standard stator
http://endless-sphere.com/forums/viewtopic.php?f=28&t=45245&p=722413#p722108
There are several places I mention using a large, empty, and cleaned-out peanut butter jar in which to put the many clips, screws, and washers. They are plastic so they won't break when dropped, a smaller vitamin bottle will fit inside for tiny items you want to isolate, the lid will screw on so it won't pop off by accident, my hand will reach the bottom instead of pouring everything out to get one item, and its clear- so I can see the stored items. Besides all that, who doesn't like peanut butter?
View attachment 2