I just installed a Fardriver ND72680 in my scooter and during the test rides I melted my phase wires.
The little controller realy made 680A peak phase current and little over 490Asinus (measured with a calibrated true RMS current clamp). I drove uphill with 23kW drawn from the battery, measuring around 310Adc with a voltage sag around only 3V. The battery 21S5P with a total 100Ah , power pouch with 8C constant discharge can still do more, but the BMS is limited to 350A for max 5 minutes.
I expected things like this to happen, but I did not know with which controller this could happen, so I'm glad I did not install the ND96850 or the ND721800 I also have setting in the garage, they might have melted the wires much faster.
The phase wires from my QS60V500835 (5000W) only melted under the swingarm.
At the controller and through the motor axle they where ok. I checked the temperatures during my testdrive every minute by hand at the controller and in front of the axle, underneath the swingarm I did not check the temperatures.
Now I opened it up and had a look at it and compared it to the erider / Masini Extremo 8kw motor, i also have.
The one with more copper inside is the 5kW QS 60V Motor.
The other is the erider 72V 8kW motor.
Both are 260mm motors, the 5kW has 40mm magnets and 7x22mm gaps and AWG6 13,3mm² phase wires, the 8kw has 45mm magnets and 7x15mm gaps and 2x6mm² phase wire per phase.
For what is the circular winding on both sides of the 5kw motor.
The 8kw does not have this winding at all.
And why did the phase wires only melt at the steel swingarm?
Did I build an induction heater?
I always thought the motor axle is the weak or hot spot.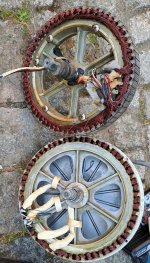 Last edited: