Joined

May 19, 2008
Messages

14,955
Location
If mentioned how to do this a couple of times, but took pics this time. I thought it deserved its own thread, since I've noticed a number of members burning up motors and controllers recently after modifying their shunts in an uncontrolled manner.
Simply adding solder to a shunt is a losing proposition. I've done it myself and created failures as a direct result. Solder has both a low melting point and a relatively high resistance, especially compared to copper. If you have a controller not easily programmed, you can still modify its current limits by modifying the resistance of the shunt. In the example below I was trying to slightly more than double my current by reducing shunt resistance by just over half, so I wrapped half of the shunt length in copper and soldered the copper to the shunt legs. Note that my shunt had 4 legs, so to make sure I had good contact between the copper and all of the shunt legs I wound the copper in an alternating manner so each wrap touched all legs.
I've done this several times and very thin copper is definitely the way to go, since it bends much easier and a controlled result ensured.
Before solder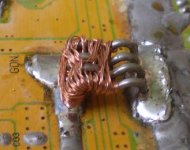 After solder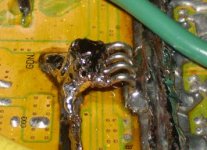 Note that I probably took it a bit past half the resistance, since I wrapped copper a bit more than half of the shunt length.
Even if you have a programmable controller, you may want to do such a mod, which is my case. The infineon controllers have a fixed regen current of 10A. With high speed wind motors 10A is little and results in very light braking even at the high setting. I wanted to double the regen force and that's requires double the regen current, so I needed to fool the controller by modding the shunt resistance.