Joined

Oct 13, 2022
Messages

23
Location
I got a Motobecane 50V awhile back. Cool bike. I love the style and very comfortable to ride. I rebuilt the motor, drive train, etc but the bike is just really loud riding around my neighborhood and needs more power to make it up the hills. Wife says she can hear me a half mile away. I debated when I rebuilt the bike on going electric or not. I should have.
This is the bike day I got it. It worked fine.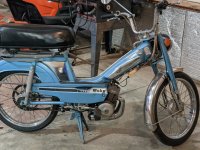 So…I had a hub motor from an Aventon Pace 500 that wasn't being used and a spare battery. I decided to put them on the Motobecane 50V to see how it ran and how I liked riding it with the electric hub motor. I couldn't find much info on converting one of these bikes so I didn't want to spend much until I had fit things up and had an idea of what I was getting into. The 500w hub motor with a cheap 18 amp max controller could get the bike to 25mph on the flats. Didn't do so well on the steep hills. Basically it performed almost as good as the 50cc gas motor.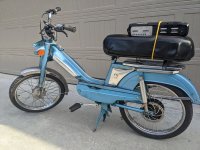 Going forward, I absolutely want to keep the look and feel of the original bike. I made a mount for the battery where the old motor mounted using some hinges and cleaned up the wires a bit. I ended up putting on more miles in a few weeks with the electric motor than I did in several months with the gas motor. Super comfortable and quiet to ride.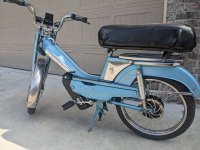 With the proof of concept done…I wanted to make it better. I needed to get up the hills, add disc brakes, and gears and chain to the peddles. I ordered a Leafbike 1500w hub motor and a Sabvoton 45amp controller. I also tore the bike down for a paint job which is currently in progress. I have two major hurdles to get through as well as a battery eventually. The rear swingarm has 125mm of dropout and the motor requires 135mm. I can spread the swingarm a bit to make it fit but I still have to make some adjustment to mount disc brake brackets and fit the disc brake. I am not sure how I am going to remedy that short of redoing the whole swingarm. Currently waiting on spokes to install the rim onto the hub motor and working on paint and clear coat for the bike components.
More to come in a few weeks as time allows. Goal is to have it rideable come spring.