Joined

Feb 18, 2023
Messages

52
Location
I've never heard of it, it was probably rare, but i stripped it and painted it one of my favorite shades of green, stuck a 52v 20ah battery on it with a 1500 watt direct drive rear hub, and i am currently sitting with a new fork, handlebars, stem, grips, and am waiting for some tools , a front hub motor and rim, hydraulic disc brakes, and a shnazzy oil slicked out chain and probably matching pedals, and new rubber, then i can officially call the project done, but for now its a work in progress....
I might try to wire the front geared motor in a delta configuration and only use it when im already going a bit... we shall see how that goes, ill need another controller and probably seperate power for it to avoid sag issues...or maybe not, the u004 is a good solid battery for this configuration it hasnt even gotten low enough to break it in... anyways, here are some pictures, and yes.. that is a potato cannon....
I love the geometry of the frame. I had to modify the triangle battery strap holders to fit and also bolt it together so even without the straps its tightly installed and waterproofed with silicone and soon some of this jelly tape i ordered for the buttons. and once i put the forks on and the 27.5-29" wheel on the front it will sit just right. oh yeah i will also lose the ducktape saddle for something with a thud buster or bump absorbing seat....
i also slotted the rear dropouts to properly accomidate the washer with the hook on it, I didnt think it was necessary for a torque arm with this configuration, I don't see it being necessary until i put more power to the rear motor.... there is no display, and no need to unlock this particular plain af controller either, less irrelevant parts to break or maintain.... i will probably put lights on by the winter, as i travel before dawn for half the week.
will it be worth wiring the front hub motor like i had described, has anyone done that? any suggestions?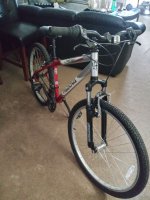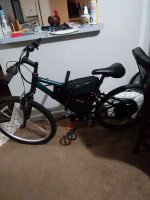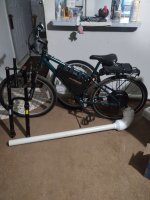 Last edited: