Joined

Jul 1, 2015
Messages

117
Location
Hey Lads,
Presenting to you my first build. Possibly the ugliest eBike on ES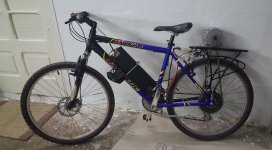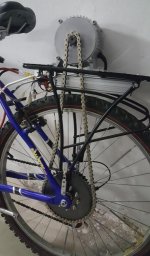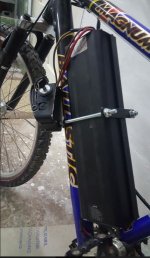 I called her Milda cuase it's an ugly bike worthy of an ugly name. 1kW BHT motor, 1kW-3kW controller 18 FET, Supposedly 48V 15Ah battery. Sill have to do some tidying up with wires and battery key holder thing. There you can see the my patent pending battery quick release system :lol: :lol:
Took her out for a test drive today and worked relatively well. The only problem I am having is with the BMS. I have to be REALLY gentle with the throttle otherwise the BMS cuts out the power. Or maybe I am not using it correctly since I am not exactly helping with pedaling I am jst letting the motor do the work maybe I have to change that.
Having said that, the throttle is really sensitive and I was wondering if I could change the sensitivity through the controller maybe make it take longer to reach the setpoint.
This is the controller I have, http://e-bike-diffusion.com/index.php?module=produit&prd_id=526&url_retour=http%253A%252F%252Fe-bike-diffusion.com%253A80%252Findex.php%253Fmodule%253Dcategorie%2526code_cat%253D27%2526page_start_num%253D2
Can I program it some how?
I will update with more pictures and videos
Regards Glenn