Hi E-S,
I'm about to start on a "Mark 2" solar trailer project and thought I'd post a build thread on here, for advice from the experts and hopefully to make some contributions to the pool of knowledge on the topic. It'll be inspired by
@solarEbike
's impressive contraption - he's well and truly proven how feasible this solar trailer thing is.
But first, I thought I'd talk about my "Mark 1" trailer. I put together this contraption a couple of years ago and I've got maybe 2500km on it now. The structural parts are aluminium, built for me by Steve from cycletrailers.co.nz. I designed it to support two Sunman eArc 185W flexible solar panels, each of which measures 1520*680mm. Total length is 4200mm including the drawbar. Width, at the widest point, is 750mm. It has aluminium support ribs under every cell. The panels are secured to the aluminium support ribs with VHB foam core tape (GPH-160GF, 12*1.6mm) - the idea being to allow for some thermal expansion/contraction. It uses an Elejoy boost MPPT solar charge controller from ebikes.ca, with the panels in series. It has 20" wheels with 14mm BMX axles, and Schwalbe Super Moto-X 20x2.4 tyres. It attaches to my bike with a standard Burley trailer hitch, and has a Burley flex connector in the drawbar of the trailer. The panels can rotate maybe ±30° (manually, using seatpost quick-releases at either end to secure it). I tow the trailer with a fairly typical converted hardtail bike. The bike has a GMAC motor in the rear, driven by a Frankenrunner controller, with a 14S7P (52V) EM3EV rectangle battery containing LG HG2 cells. It has space under the panels for two 100L plastic crates that sit on aluminium angle runners (see the pics).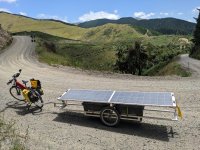 Mark 1 works pretty well. It has heaps of power - I don't doubt the panels are performing to spec (though I don't have an irradiance meter to prove it). On a sunny day, it'll give me 350W+ for an extended time, and I've seen it peak up to 450W. It handles shingle/dirt roads without any trouble even though it has no suspension. It has far more storage space than I need. But it has some drawbacks that I want to address with a Mark 2. In particular, it's quite heavy - around
28kg without the crates
(edit: I finally weighed it and it's 34kg without crates, and the empty crates make it 40kg). It needed quite a lot of aluminium for sufficient stiffness down the length. The length doesn't bother me much when underway (just need to be careful around tight corners in town), but the length makes it annoying to transport e.g. on a trailer behind a car. That it's welded together means it can't really be disassembled for transport. 370W of solar is overkill for my usage too tbh - I don't go fast enough to use so much power when the sun is out, so some of that power goes unused on nice days. Still, I've done some decent multi-day tours with it, including a fair bit off pavement (e.g. the Molesworth Station here in NZ).
My goals for a Mark 2 trailer are:
Significant weight reduction. Aiming for a 22kg weight loss, for a total trailer weight (excluding any gear) of 12kg. That's pretty ambitious, I know, but I'm going to try.
Able to be disassembled into pieces each of which are no more than 900*900*50mm. This means I can break it down and fit it in the boot of my car, or very easily on a typical light trailer behind a car. I won't be doing any round-the-world trips any time soon, but I like the idea of being able to drive to a different region, do a few days' loop tour, then come home again.
~250W panel power. That should be plenty and it'll make the trailer much shorter/lighter. I don't want to go as low as 200W because my wife sometimes comes along on trips and we share the available energy (we swap batteries). We'll have a child trailer too, so only one of us can have solar!
A little storage space - I'm imagining a tray for a 50-100L PVC dry bag to be strapped on. I have 200L now and could probably fit 400L of crates, but I already tend to over-pack.
Somewhere I can put a linear actuator for single-axis sun tracking. I'd love a motor inside the main boom to track the sun like @solarEbike did, but the mechanical complexity is beyond me. I plan to design/build/program my own tracking computer (I studied embedded systems/electronics engineering many years ago, though I didn't end up doing that for a living). I'll leave this for later though - I'll have a manual tilt to begin with.
I'll use two LightLeaf Solar gLeaf panels. I've already ordered the panels. Rick and Eric have kindly agreed to make me some custom sized panels - 6x6 cells, to fit within my self-imposed size limit. I plan to use carbon fibre tubes to form the supporting structure, with an off-the-shelf tube connector system. I have some very basic fabrication skills and tools, plus I have a drill press and the skill to operate it, but I don't have any experience working with composites. The budget is 7500NZD (much of that will be eaten up by freight costs here to the bottom of the world!). Will write more about my ideas for the Mark 2 trailer in the next post. In the meantime, any thoughts are most welcome
Last edited: