Joined

May 21, 2018
Messages

198
Location
Yeah, sorry about that. I put a ton of effort into testing the CTK-EV-300 vs the Genasun, created a bunch of spreadsheets, edited video footage and then got busy with work and dropped the ball on posting my results. As I recall, they performed almost identically in steady-state conditions but the Genasun did better in rapidly changing conditions, such as riding in and out of tree shading. My estimate was 2% more watt-hours over the course of a multi-day tour with a mix of shaded/unshaded riding.
The potted option on the Genasun is a real benefit for ultra long tours in extreme conditions but the price point is unattractive. They used to offer an option where you can send your unit back to them to change the output voltage for a fee, only available on the unpotted versions. I did it once when I switched from 48V to 36V. Not sure if that's still available. It would be nice if they allowed the user to set the voltage but I can see how this is an edge case and is not worth it for them to add buttons and a display. Also, potting it yourself is not that difficult. I've done it myself, even managed to keep the programming headers exposed after potting.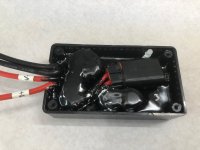 The Elejoy MPPT sold by Grin Tech (and available elsewhere) is better value for your money and offers reasonable water protection. I would mount it with the wire glands facing down in a location where it doesn't see direct rain or sun. If you ride in very wet conditions, I would open the cover and add silicone around the door and wire entry points for added protection.