Warren said:

Yes. If the foot pegs were half way up the pendulum Justin would get the 2:1 ratio he is looking for. But the shorter the pendulum for the feet, the less you approximate a linear path.
Hmm, I must have done a bad job conveying stuff in the drawing though I can see now how it looks this way! The front blue platform isn't meant to be a pivoting pendulum but rather a sliding carriage. That front section would move forwards and backwards on a set of rails but stay oriented the same way, like this: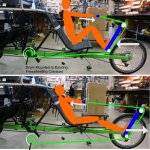 However, I kindof like the idea of using a pivot on the leg section as that's always a simper and more robust to fabricate than a sliding rail, I'd just need to see if the arc motion of the legs would be OK or not.