Hi all,
I'm planning a non-bike project involving hub-motors and found this forum to have the most knowledgeable and helpful members regarding this half of the topic, the other half being The Forestry Forum. What I'm thinking of is a hub-motor powered bandsaw sawmill. I have a fairly good understanding of basic electronics and I'm aware of the issues regarding constant power supply and delivery needs for such a high-amp, continuously running device. What I'm not so familiar with is how to match a motor/rim/controller for optimal performance.
The simplest example of a similarly built machine I could find is from a
Youtube
video
the difference being that the wheels are built using spokes (I'm planning on casted rims) and driven by an induction motor: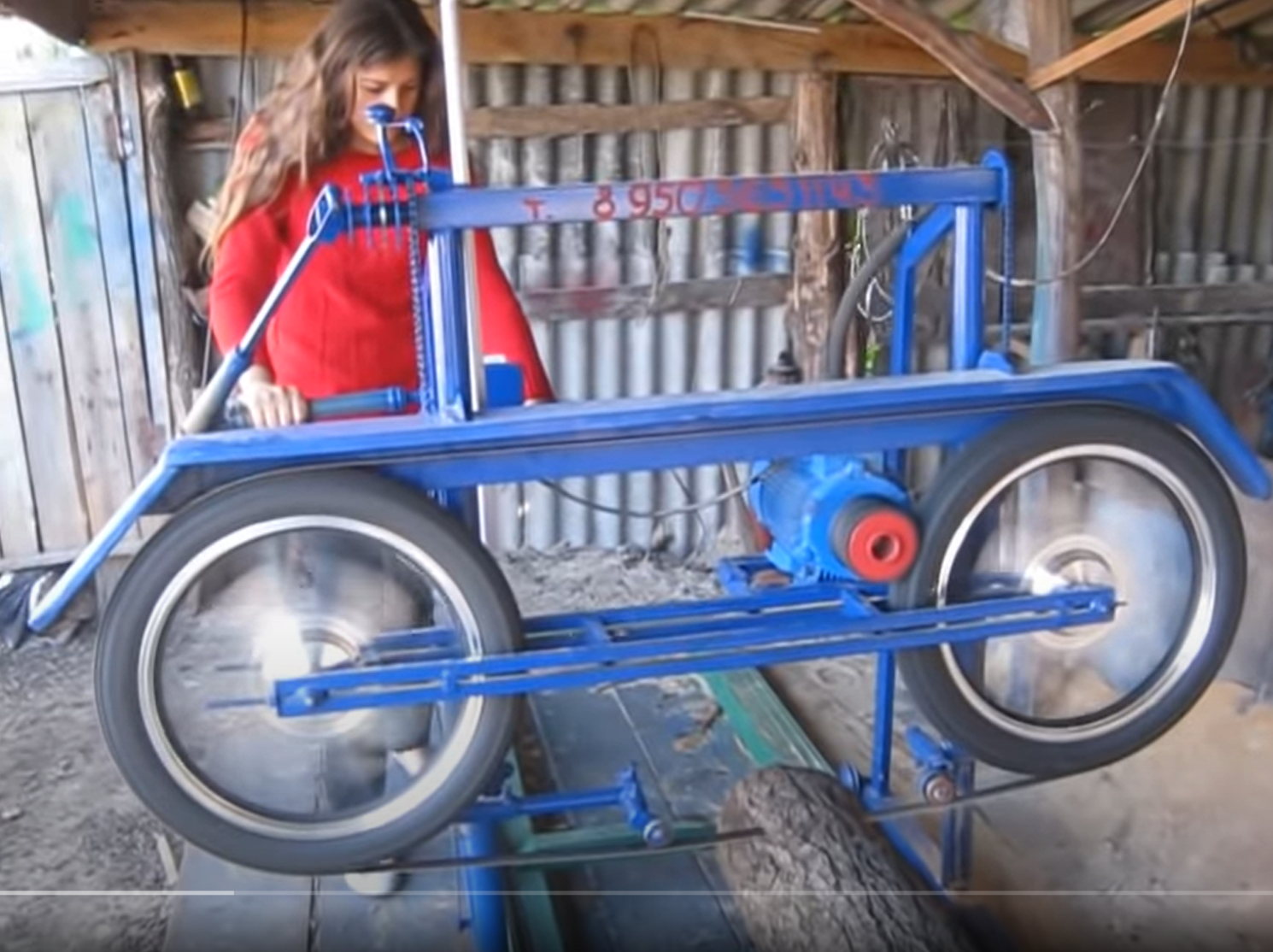 My specs for the time being:
-2 identical motors and controllers running the blade
-Average continuous motor power estimate 2 - 2.5kW per motor
-Peak power about 3kW per motor
-Tire diameter 400mm+
-(blade) speed max 17m/s (60km/h, 38mph). In practice this might be lower as 5kW might not utilize the cutting capabilities of the blade sufficiently
I have been thinking about this motor
https://a.aliexpress.com/_mrrLnj4
Specification:
Material: Aluminum alloy
Size: 16 inch
Maximum Efficiency: 88
Voltage: 48v/90v
Power: 500W to 3500W
Speed : 50KM/H to 120 KM/H
Sensor: For Hall
Waterproof Rating: IPX5
Maximum Torsion: 75N.M
Magnetic Poles: 26
for the following reasons:
-the shaft thread claims to have M16 thread whereas many motors seem to have a thinner axle
-the motor vs rim ratio seems larger than in some similar category motors
-the dimensions and specs are provided (assuming they match the product), I could design further before I get the wheels
Some of the questions I still have in my head are:
What tires would fit the rim? 2.25X16? some metric size maybe?
Are there better known motors with similar specs that I could use to estimate the performance of this one?
Is heating likely to limit the average power from 2kW?
Is this motor just not going to cut it? Any better suggestions? Do I need to gear down to meet my specs?
Do I need a driver matching the pole count (26)?
Should I have the beefiest driver or is there a benefit (other than price) for opting for a more tightly specified one?
How does the Voltage/Power/Speed specs add up, or is it just a marketing spec? (Going from 48V to 90V shouldn't double the wheel speed, yet speed spec is 50km/h to 120km/h)
How much power can I expect to get at about 60km/h?
Can I get the power (of previous question) by setting the speed to 60 (assuming the voltage would allow more) and just feeding the blade until I reach the wanted power, or would I need to throttle up as the load increases? (Now that I rethink it, I'm asking if there are controllers with speedometer)
If I need to slow down from my maximum speed, is there a difference between using lower supply voltage and full throttle vs. higher voltage and limiting the speed/power with the driver? Of course the speedometer function wouldn't work if there wasn't any room for added power.
And some more general questions:
Where could I find dimensions (mainly OD) of different inch sized moped/scooter tyres? Metric ones I have understood I can calculate.
What's the maximum pressure for a moped/scooter tire? (Will eventually limit the blade tension: a typical blade tensioning on steel wheels is around 15000 psi!)
Can I make or buy a completely solid tire and get it balanced well enough?
What's the typical thickness of an e-scooter hub-motor shaft?
What's the size of the shaft bearings on a hub-motor with M16 thread?
Am I asking the right questions?
A lot of questions, any help would be greatly appreciated!
BR, Pauli