Joined

Aug 28, 2008
Messages

344
Location
I did this work almost a year ago following a conversation with Luke (LFP) who mentioned he was working on endothermic fillers that could be useful in preventing thermal runaway and/or runaway propagation. The idea, of course, is that heat would be absorbed from a cell that is overheating to either prevent that cell from entering thermal runaway, or preventing that heat from triggering the neighboring cells into thermal runaway.
I decided to do my own investigation and researched the typical compounds used in endothermic fire retardants such as aluminum hydroxide, magnesium hydroxide, antimony trioxide, etc. Unfortunately, these all begin to react at temperatures much higher than those needed to initiate thermal runaway. After some soul searching, I vaguely recalled that sometimes sodium bicarbonate is used as a fire extinguishing agent. Yes, baking soda. Upon further reading, I found that it starts to react endothermically at 80C, much much lower than the others. Not only that, the byproducts of the reaction are CO2 and water. Both useful things for extinguishing fires. The amount of heat absorbed is quite large, about 1130 Joules per gram of NaHCO3.
My first test experiment involved 2 identical setups with a heater cartridge with 4 thermocouples (T1-T4) spaced between it and a cell (T1 closest to heater, T4 is on the cell). The first setup had ordinary platinum cure silicone potting, the second had 33% NaHC03 mixed in. Ignore the lumpy silicone, I recycled some old chunks of cured silicone to reduce waste
.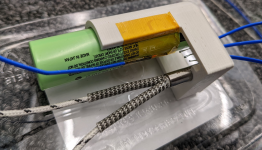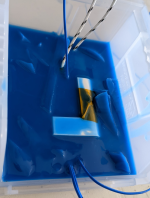 The results were quite impressive. There was a massive drop in temperature in the filled potting. You can even see the temperature at which it starts reacting.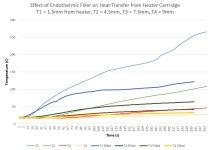 I think this could be extremely useful as a security measure to prevent TR. Especially for those DIY-ers building sketchy packs with recycled cells. Much much more work is required to understand how much space is needed between the cells for this to be effective. A mix of analysis and real propagation experiments is needed. The next step for me is to complete my thermal runaway chamber where I can (sort of ) safely trigger ebike size packs into TR.