Joined

May 7, 2019
Messages

6
Moderator note; is a shill thread, so was moved out of the discussion forums and into Vendor Relations Corner since it features posts of problems by various members with this company, and has been retitled to suit, and other advertising posts by original OP have been removed.
https://endless-sphere.com/forums/viewtopic.php?f=46&t=100045&start=25#p1579329
entire post quoted below:
mark5 said:

Cosnofski said:

BUYER BEWARE - ZOOM ELECTRIC SCOOTERS.

Can't help but wonder if these positive reviews for the zoom electric scooter seen on the https://www.zoomescooters.com website from people who are in one way or another affiliated with Zoom Electric Scooters, Ampere Motors, Bloom Scooters, Tony Chan, etc.

I've seen some negative reviews on the zoom electric scooter Instagram site but those reviews disappear pretty quickly and the review sites have comments locked. Hmm...

I mean, here I am posting a negative review in a forum that Zoom electric scooter or moped can't control and within minutes, electricmopedgreat, who at the time of my writing this post has only posted to this thread on this forum, is posting a response/rebuttal. Hmm...

If you are considering purchasing a zoom electric scooter or moped and you have the very good fortune of reading this thread, ask yourself, why does electricmopedgreat care so much about the reputation of his personal scooter?

[...]

If you truly believe that that electricmopedgreat is not affiliated in any way shape or form with Zoom Electric Scooters, Bloom Electric Scooter, Ampere Motors or Tony Chan, and that his/her long term review is truly an unbiased review, than have at it, buy one.

electricmopedgreat said:

no i am not affiliated with them.

Just a customer enjoying my scooter.

Cosnofski, thanks for bringing this up.

I checked electricmopedgreat's account here and it does in fact trace back to Tony Chan / Ampere Motor.

And here he is again, posting a similar review at another forum, pretending to be a customer:

https://electricbikereview.com/foru...ith-my-new-zoom-electric-scooter-moped.30257/

What a phony.
Original thread opening post, with spam links removed:
Just bought a scooter/moped from their California plant for about $1900. It is awesome! I have been trying to find an affordable and solid scooter for my commute to work and get around the city... went to test drive it in Orange County and liked it.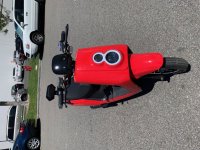 Pros: incredible torque, great launch from start
remote alarm system included with immobilizer
silent motor
digital dash
decent workmanship especially at this super low price compared to their products on the market
storage trunk and cup holder
reverse gear, which is very rare for a moped, pretty useful when parking
brakes are good
suspension decent
Range, i get on average about 45-50 miles per charge
Cons: Turn signals can be brighter, the charger can be smaller
rims can look cooler, but i am ok with these rims
the electric horn is so loud, may be is a good thing. brakes are a little too sensitive for my taste, may be it is adjustable.
Overall i think the scooter is great value and a solid product.