Joined

Sep 16, 2022
Messages

28
I've been planning my next build. I'll be electrifying this used recumbent trike I bought. At first I thought it was a Performer JC-26X. But that model has direct steering and this has indirect steering. I reached out to someone at Performer Cycles and learned that I have a discontinued model.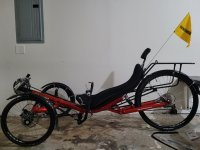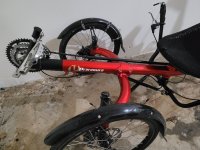 Anyway, here are the important specs. It weighs 50 lbs, the top of the seat is 5 inches lower(29") compared to the JC-26X while the bottom seat height is the same, it's got a 9-inch longer wheelbase(54"), and everything else seems the same, with a front track of 29". It has an aluminum frame and CrMo swingarm, with 160mm brake rotors on the front wheels. The weight distribution is nearly 50-50 front and rear. It corners great, but I have to lean a bit. I can lock up the front wheels on flat ground without lifting the rear wheel. I'll try to arrange the weight of batteries to put more weight on the front for better cornering, and hopefully burnouts.
To help decide on a speed to shoot for, I rode it down some hills. I had never ridden something like this before so the first few runs (~35mph) felt sketchy. The trike was sturdy, it was just a me problem. After that, I hauled it out to some more substantial hills where I managed 43mph on a steeper one and averaged about 30mph for over 3 minutes on a longer one. After spending more time at speed I got used to the steering and riding position. It never felt unstable. It didn't do too bad going over bumps and holes in the road. Though I haven't hit anything that substantial at speed. 45 mph should be comfortable after some modifications. I was able to pedal all the way up to about 40, and when I swap the 52t chainring for a 62t, I'll be able to pedal up to 45 with only 100 rpm at the cranks. I'd have to lock out the smallest chainring but even if something fails, I'd still be able to pedal uphill at 6mph with a cadence of 60.
I'm going to use an RC motor driving the left side of the rear wheel because RC drives are fun. Also because I plan to test a 2-speed gearbox I'm thinking up. Don't want to get into the details yet, but it should allow freewheeling, regen braking, and not have the issue of locking up when rolling backward. I'll gear it for 35mph in 1st and 50mph in 2nd. It will likely just be a proof of concept since I don't have the facilities(gear hobbing) to make it robust. So I doubt it will be on the final version of this.
For power I figure I'll max out a controller I already have, which would be about 5.7 kW. This number is convenient because building a pack to this spec with the 18650s I have in mind would make it capable of charging at 1 kw at .5C. Which will be compatible with my aspiration to make a series hybrid vehicle. Which won't necessarily be the trike, I want to swap the battery between builds.
Here's a list of components I plan to buy:
(192ct)EVE 29V 18650 2850mAh 8.4A 1.95kWh configured 16s 12p​
I've made some packs with 18650s before so that's why I'm not using pouch cells or just buying a pre-built pack.​
16s 100a DALY Smart BMS​
Have the 60a version on my bike and it's held up fine. The app is handy as well.​
​
Spintend Ubox 75v/100a ESC​
I have this on my bike as well. I haven't had any problems and I like the VESC Tool app.​
​
Astroflight 3215 Brushless Motor​
Fits the application, but boy are these expensive, if you know of a motor with similar spec that's cheaper let me know. I don't mind losing a bit in efficiency.​
I've concluded that I'll want a steering damper but I'm not sure where to look.
For the wheels & tires I'm thinking between re-lacing the hubs with double wall steel rims and Maxxis Hookworm tires or motorcycle/moped rims and tires.
I'm going to need front suspension, and no such kit exists for this trike. Even if they did, they'd probably be outside my budget. So I'll just have to make it myself. Thinking of copying the style of the kmx trike kit.