Joined

Mar 25, 2012
Messages

78
Hi everyone, I'm new here. I'm building my first bike.
Briefly, my background is more entry-level electric stuff, not bicycle stuff. I don't know how to build a bike. I don't know how to repair a bike. I might be able to take apart a bike. I can barely ride a bike. And I want to build a recumbent which, I can't actually say I've ever ridden or even seen one of in person. So I'll have a lot of bicycle questions. My bike terminology is lacking. If you'd like to take the time to correct me and explain what is what, I'd appreciate that. Bear with me.
I've done a lot of research, reading, planning and pondering before now so as to not waste everyone's time and keep this thread at least semi-fun with some pics. First post here is going to be a data dump of all the specs so far. Hopefully it gets better from then on.
First up, I'm cheap. I'm interested in building as much from scrap as possible. I also find this intellectually/artistically fun, when the answer to everything becomes "just buy this" or "just spend more" the answer might as well be "just go buy one, don't bother building one" which is a half step away from "just buy a nice car." Please frame any commentary directed at me within this context. Hopefully my choices are at least interesting, if not optimal.
Here we go.
---
Structure
:
There are so many recumbent design options I hit paralysis by analysis for a while. Maybe those of you reading this aren't too familiar with recumbents either, so after reading for a couple days I picked from a few hundred samples and condensed the major design choices to these things. I've labelled them myself, some of the terms might be wrong as I just made them up:
- I will be choosing to build a a Short Wheelbase. I'm not entirely sure what a racer is, but something that looks like a mid or high racer probably? Not too low for 4 reasons: 1- I'm scared to be too low, dangerous in traffic, 2- I don't want to ride with my chin down, opposite reason I don't like uprights cranking my chin up to see the road, 3- I like to be high enough to enjoy the view, I would like to tour with this bike (will also be using it in the city). 4- It's not comfortable to be in a sky-crawling position. -- I am aware there is a drag penalty for every inch of height I refuse to abandon, I accept the tradeoff --
- Straight or S-Pipe frame, diamond is ugly.
- Above seat steering, probably. Simpler.
- RWD & Right-side drive. I want to use at least the rear cassette to give some mechanical motor gearing (chain issues though?), I might not need it since I first chose this.
- 26" rear, 20" front. I think this makes it easier to have lower posture with an upright seat and cargo room.
- Front suspension from a kid's bike (bad idea?)
- Rear suspension maybe, if I can figure it out.
Battery
I plan on using Lithium-Ion batteries from laptop battery packs that I'll (hope to) get from a computer recycler for free/volunteer time. 18650s. Yes, I know this is a panty-twirling trigger for some well-known community participants here. The project becomes non-interesting to me if I have to buy batteries, so I am fixed in this choice. I built myself a spot welder (for free) to weld the tabs. I know not to charge if sunk below 2.7v. I know to see what reaches what voltage and what holds it there. I know to set up drain-tests and discard crap cells.
I haven't yet, but I'll build (for free) a 4.2V, 400A charger to charge/test mass packs in a half hour sometime when I've got time.
More battery details later on.
Motor
:
I have a few motors to choose from. I selected this 30lb treadmill brush motor. I am aware the idea of this is akin to ramming a cactus up the least comfortable place imaginable for some active participants here, but it's what I've chosen because it was free (maybe $1). It's not even a nice brush motor with neodymium magnets, they're ceramic. It's not even a 4-pole magnet. Hell, the magnets aren't even in good shape, one looks like it was cracked in half before it was assembled. Oh well. Here she is: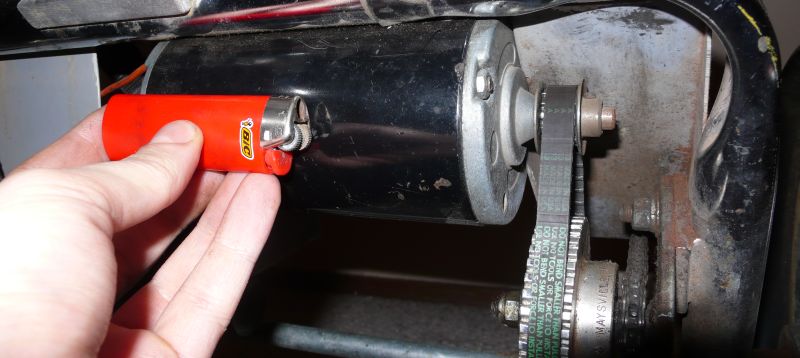 Oops not that one, that's way too small. Let's go bigger!: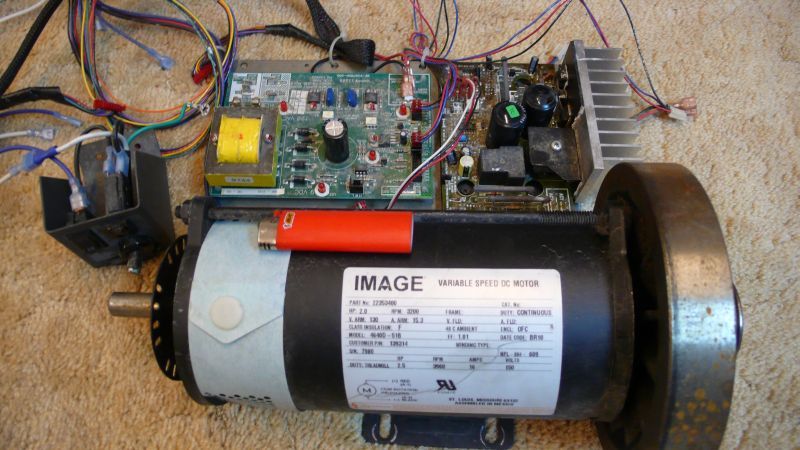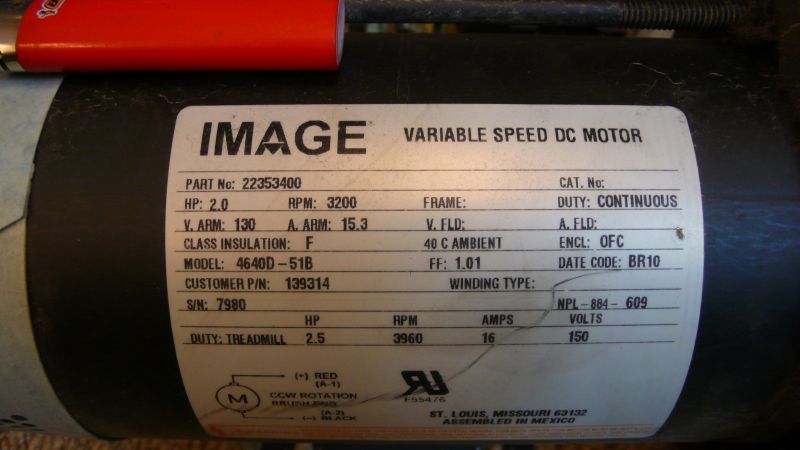 That's more like it! Toss that flywheel (10lbs, down to 20lbs now). Let's take 'er apart for a looksie:

Okay, so it's not an ultra-light compact RC motor. But unless one of you are giving me one of those for $1, it's what I'm using. Speaking of RC motors, the end caps on this thing alone (1/2" steel) probably weigh as much as a whole RC motor:
Why is it almost as big as a 2L pop bottle and serviceable as a boat anchor? Well, 1/4" steel armor(?) plating for a case might have something to do with it: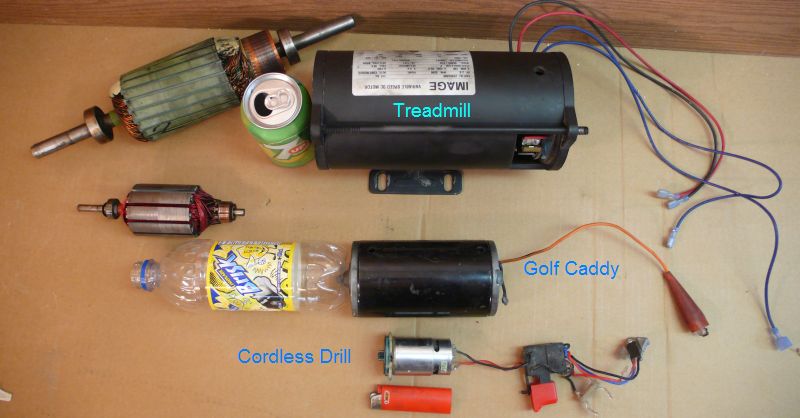 Great. Except that it'll have to be sealed up better to weatherproof it, so I'll have to de-rate the motor by 3-4x without all that air cooling. Coincidence, that'll bring it down to to the 500W legal limit most places.

*stamps* APPROVED!
Controller
:
Not sure, will build it myself. I'll have to buy ~$25 of MOSFETs for it. Probably have most of the rest laying around.
Charger
:
Wait, go back to those motor specs. Did that say 130VDC continuous, 150VDC for treadmill (peak power for minutes only) use? Hrm. An evil idea brews. Still in the concept stage, 'cept I'm pretty sure it'll work fine.
Out of your wall (north america) comes 120VAC. If you rectify this ($2 shipped, 15A rectifier) and smooth it with a sizable cap, you get 170VDC (because 120VAC actually peaks at 170V and the cap will surge-charge to that voltage). Okay, so the motor wire insulation isn't going to break down at 170V either. It might spin too fast (too fast for me to use it anyway, I don't need to pass cars on the highway), but I will have speed control anyway. Some PWM thing to chop up the 170V.
This means, no hauling a bulky transformer around. Just a power cord, rectifier (matchbox sized) and cap, built into the battery pack. Maybe an AC run cap to limit the current, (normal circuit allows 1800W flowrate before it trips the breaker), or I could use my controller in reverse (controls average current from 170VDC wall to 170VDC batteries, rather than 170VDC batteries to motor). It also means I can pirate charge a pack at breaker-friendly 1500W flow rate. Avast!
Okay, back up again. Batteries then need to be 170V. That's a string of about 42 in series. Pretty long. I figure, anywhere from 2-8 in parallel. Not sure if I'll parallel them all (better, auto-balancing) or into 2-3 strings (separate circuits, even faster charging since I'm limited by breakers).
Battery packs will be modular and removable anyway, so I can bring 'em into fast food places and charge while I eat on the road (look around next time you're in one, outlets everywhere).
Gearing
:
It's a mid-drive right? Two problems. One, while this motor spins very slow compared to your RC whizzers, it's not slow enough yet. Worse, it's not even pointing in the right direction. I have to get this motor shaft sticking out sideways into the chain somewhere. But the motor is just way too fat to put it sideways especially after a gearbox. Belts are inefficient and annoying and have to be sized and tensioned and can break and you have to buy them and pulleys. Big bucket of nope all over the place.
First lemme address the speed thing. Ever take apart a cordless drill? Cheap ones have plastic/nylon gears. Good ones have tool steel gears with multi-stage planetary arrangements. Some even have a slow/fast mode by enabling a different planetary ring: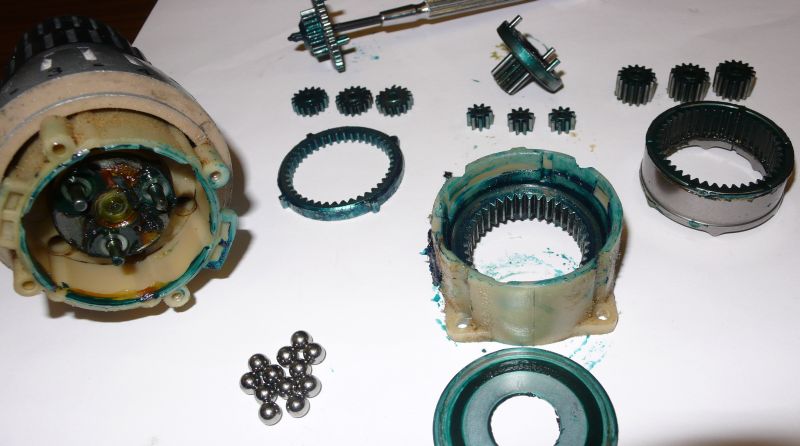 But y'know, cordless drills are like, a couple hundred watts, few minutes use at best. And have lifetimes of dozens of hours at best. Will those little metal gears hold up? Maybe not. Time to whip out the big guns. No more delicate japanese plastic frames. 1960s detroit steel: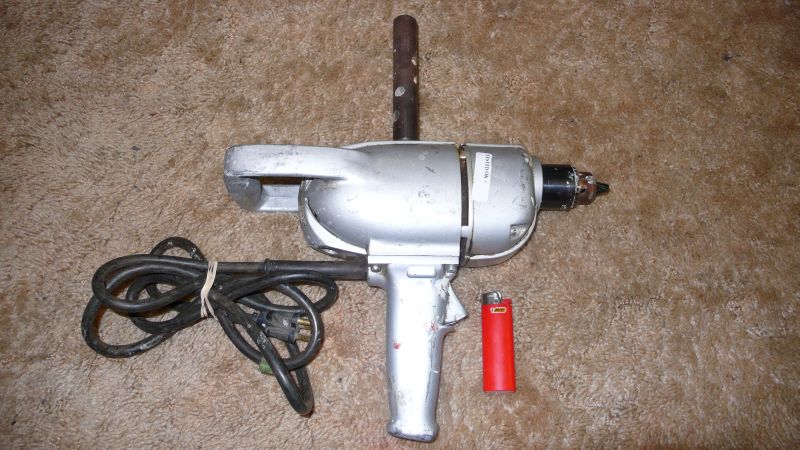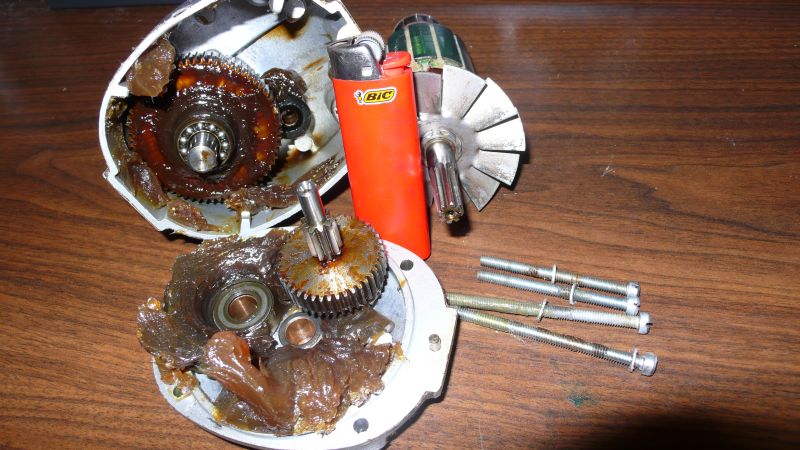 Okay, so it's dirty, but it can be cleaned and re-greased. And run over by a bulldozer if I wanted. Here it is next to the baby: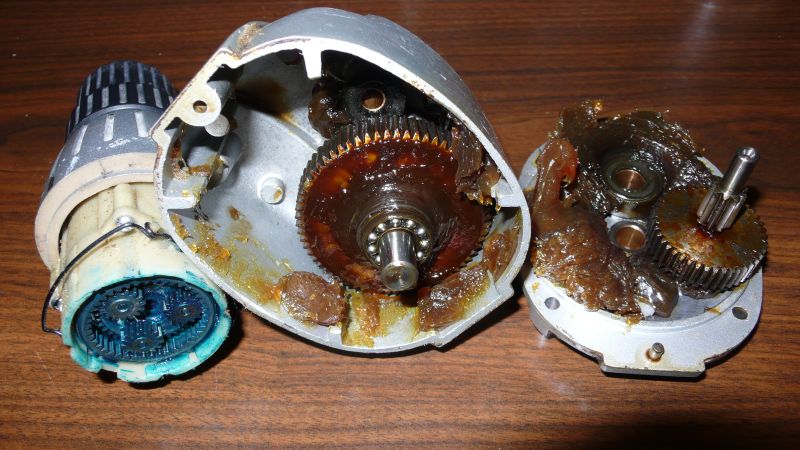 38:1 geardown btw. Might be too much by the time I'm done, I might disengage one of the pair. Handy thing about these gearboxes is they have a chuck mounted to them, making quick prototypes easy to mount (no couplers, just use the chuck).
Moving onto the second gearing problem. 90 degrees. Well, I had a funny idea. Ever seen an eggbeater-style 1800s hand drill? 90-degree bevel gears. Attached to a 500RPM cordless drill, it rotates the handle at a perfect biking cadence. Both have chucks, so grab a bar, and you've got a 10-second e-bike: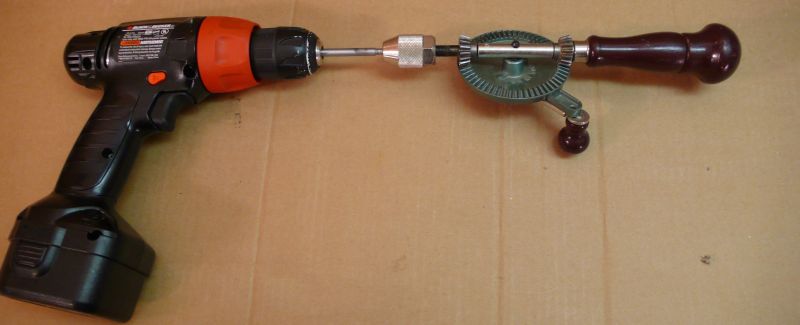 Fine, it's not really powerful enough to drive a bike, makes for a fun demo though. Option A is going with a $10 right-angle (electricians) drill adapter. But they often have nylon gears and probably won't hold up either. Option B then, is to have a friend willing to send you the gearbox from a tiny 1.5Hp trolling motor. The propeller has to turn at 90 degrees to the motor shaft. Constantly. Has to be sealed. Sounds perfect! Sometimes they're even geared down: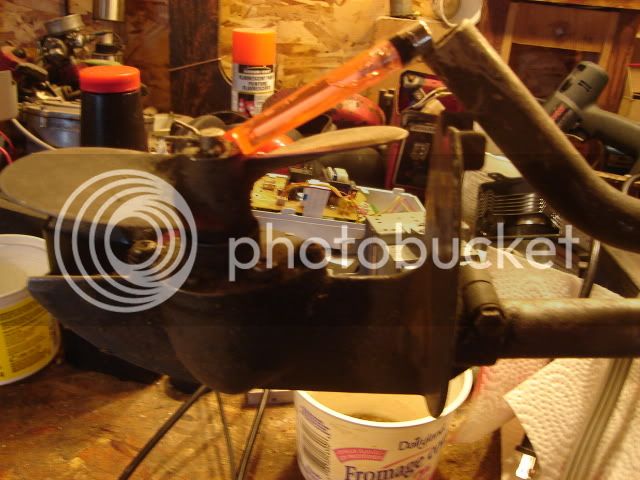 Misc
:
Cargo rack. Mount the batteries under it. Fenders. Paniers I'll probably make myself. Brake lights, riding lights, turning lights.
Power Requirements
:
Warning this'll get boring, skip it if you want. It was hard to find calculations on this. 3 primary opposing forces on a bike:
#1 - Transmission resistance (gears, chain etc). Nearly negligible on a bike.
#2 - Rolling resistance. Something about tires squishing on the road. This increases by weight, (more weight more squish), but is generally fixed and somehow smaller on smaller diameter tires. Also smaller by narrower and smoother tires. It makes up a small amount (50W perhaps at slow speeds and doesn't increase much past that).
#3 - Wind resistance. This increases as a cube function of speed for power (twice as fast takes 8x as much power). So it increases a square of speed for distance or energy. (twice as fast takes 8x as much power, but you do still get there twice as fast so it's only 4x more energy). This dominates any power calcs any faster than granny speeds.
Hence, speed kills. I extrapolated on the basic cubic relationship presuming 100 watts and 25km/h speed for myself, until I found a calculator here that more or less told me the same thing but was fancier so I use that now. Recumbents are lower and thus have less air drag, so, in their case, speed only... wounds/cripples.
I want to use this bike for touring too. So, I want to carry as large a pack as possible (sometimes). Perhaps 2500Wh. Ignore any time anyone says "Ah". That number only matters when compared to identical voltages. Battery power is measured in watt hours (or joules, since "watt hour" is like saying you drove '30 feet per second hour", just say distance, but watt hour is a more usable concept).
2500Wh means I can charge (by the time I park) in about 2 hours liberally, without even splitting circuits. The math works out that there's almost zero difference when traveling at 32, 40, 45, or 50km/h. (20-30miles/hour). The faster speed drains energy at an accelerated rate, but it also gets me to a destination and charging sooner. They all equal out to ~30km/hr including charge time. So if I wanted to travel 600km in a (long) day, it would take me 20 hours no matter what speed I go. [This is coincidence!]
This presumes I pull over and charge anywhere when running out of juice. If it's longer between stops (desert towns), I can get much farther on one charge at a slow speed.
Energy (Battery) Requirements
:
Ugg, let's just break up this wall of text with a picture of a battery: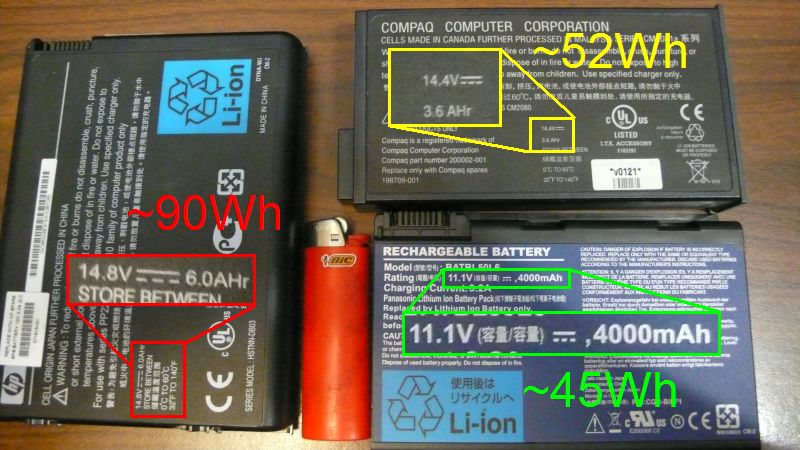 And a picture of what's inside: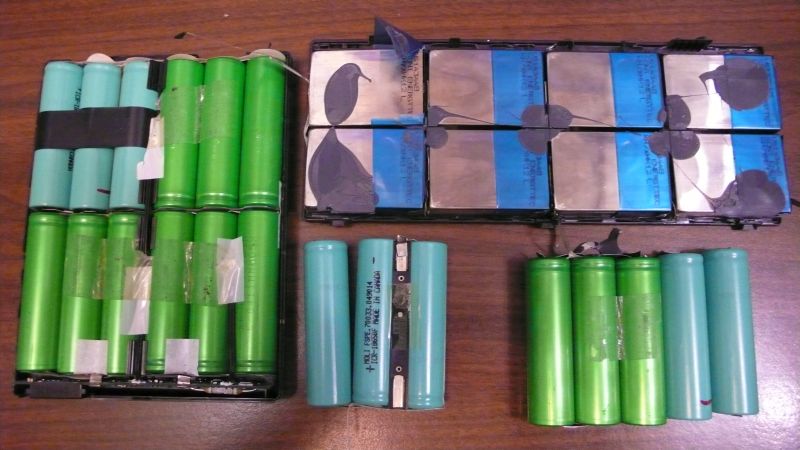 Easiest method for opening ultrasonic-welded plastic:
1 - Place case in vice, just above weld line.
2 - Crank until the plastic starts to buckle on the bottom.
3 - Tap along the edges with a hammer, watch it pop. Sometimes a chisel/screwdriver encourages it to pop, but you're not cutting through it, you're just stressing it.
Wash rinse repeat 50-100 more times I guess.
8-cell packs in a 42 string is 336 batteries. That's 2.5" tall, 6" wide, 24" long. A fair battery shelf on the cargo rack. I could re-arrange however.
It'll also give me about 80amps of current, or 13,600W of power on tap. Or, 18Hp. Enough to overdrive my motor for the ~200 seconds it could withstand the load before reaching critical temp and needing 7 minutes cooling.
That's everything I *do* know. Next up are the things I'm going to need help/suggestions with.