Joined

Feb 3, 2010
Messages

4,064
Review.
Begin:
There is a storied reason why I bought two units in this series; I'll let the related ES thread handle that part and keep this review focused on compare & contrast with the Meanwell S-350 series – being the only other CC PSU in my charging assembly.
Use:
Two units were bought; I fetched a 24V and a 48V unit which are connected in series for 63.3VDC supply. There is not a 27V model offered. My past charging assembly (SP-320-48 & SP-350-27) had a range of 63-84V which is great for 15S to 20S LiPo packs. The HRP units in series have a range of 59.7V to 88.69 which I think more than covers my
retired
charging assembly. I say
retired
because I am completely astounded and satisfied by the performance of this purchase!
Packaging:
This is the genuine article, the real deal, well-boxed, and externally appears smartly assembled. I did not take the cover off to inspect the circuitry as there was no need (
more about that below
). Compared to the Meanwell S-350 series, the HRP is the same length, although from there the similarities end. The HRP units are more narrow and more tall ever so slightly. They also weigh about 25% more. AC line power connections are in the front of the unit, and the output and controlling features are in the rear.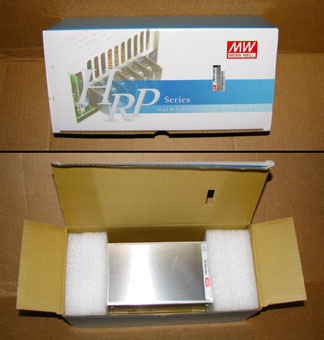 Well packaged and without issues.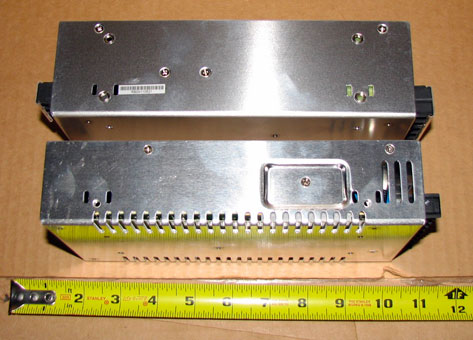 HRP on top, SP unit (same size as the S series) below. The length is the same.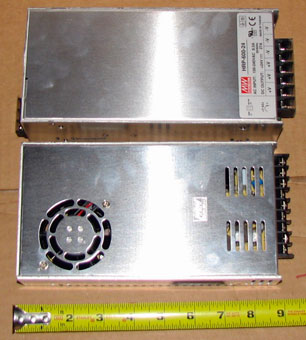 Widths & heights however are not. S and SP units have a fan on the top cover which inhibit stacking.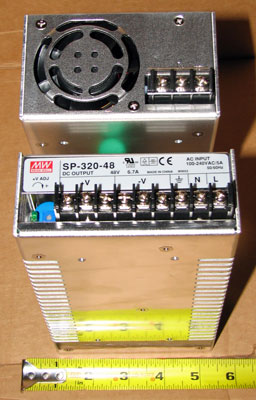 The HRP unit has the fan at the "front end". The AC connectors are located here as well. The SP unit is below for comparison; all connections are made on one side.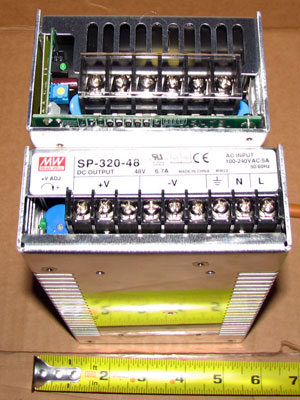 The "rear" view of the HRP unit on top. Note the copious venting. On the left side there's a little green LED and the Voltage Adjustment POT directly below. This is very similar to the SP/S units.
Operation, Circulation, and Power Consumption:
The S-350 units have a fan mounted on the top cover and this presents a problem for stacking. Not so with the HRP series: The fan is located in the front and blows through, exiting out the well-ventilated rear. The fans scream
bloody murder
with a high pitch akin to the roar of a jet winding up when this unit launches under a
full load
; it completely took me by surprise. Be prepared to leave the room if it bothers you. Granted – I have two in series, and they operated in concert well to charge my pack. I noted the following pattern:
Initial launch under full load: Fans 100%, whining and buzzing sounds; lasts for about 1 minute.
Full Load: 100%, Loud. Pulls the maximum current; I measured between 98.6 to 9A (~ 1kW) which is slightly over spec for a single unit, but then I had two in series and frankly I expected twice the rated current.
Down-Cycle Phase (Pack within 1.0V of top): Fans begin to downwind to about 90%; still loud but with quavering. Assembly begins to drop current at a rapid linear pace.
Leveling-Off (Pack within 0.3V): Fans dramatically cut to 30%; still louder than a whisper but completely tolerable. Assembly pulls less than 5A and continues to drop.
Trickle Charge (Pack within 0.1V): Fans stop. Current continues to drop below 2.75A.
CAUTION:
The assembly will continue to trickle and not turn off. Although the current dropped to below 0.5A, the pack voltage climbed to 63.5V which is odd because the charging assembly outputs 63.2 to 63.3VDC. Perhaps we need an audible alarm or an
ES-Graybeard specialty circuit board
. For the record, my pack took ½ hour to creep 0.2V past the normal limit.
Timeline of Charging:
Wicked-fast!

Please refer to the related ES thread for my story on how this went.
Mods:
I made none.
This was gee-whiz simple…
Get two units.
Find/make a bracket to hold them together for wiring into series.
Mate the charging cable. Suggest using wire size in larger diameter than 14 AWG. For the test above, I deliberately used 14 AWG and it became very warm although not quite hot. Personally I prefer 10 AWG, however 12 AWG should be plenty safe.
Plug it in and dial the voltage in for each unit separately. It is a bit of a bugger to get that 0.1 Volt to stick. I tested my setting by turning the unit on and off repeatedly to see if there was any drift, and there wasn't. Perhaps a reasonable mod would be to replace the stock POT with a higher resolution device. However this only needs to be set once, so take your time, breathe, relax, and get the setting twiddled-in and move on.
Link the units in series and re-check the voltage.
That's it! Now you're ready for some manly charging! Next, put them ol' SP- and S-units up fer sale; you'll never use them again. :wink:
Conclusion:
The HRP-600 series are awesome units that you can take and put to use right out of the box without any fiddling about. The operation,
though loud
, is most deliberate when applied to charging. The only caveat to watch out for is to be attentive for when the battery reaches full charge and pull the plug.
Tip:
We know that the fans will cut out when the pack is within 0.1V of the manually-set value, therefore with some experimentation I suggest setting the tip-point to the desired pack voltage. In this manner, when the fans cut out you'll know it's time to pull the plug; as good of an audible alarm as it gets.

9.5 Stars

out of 10!
Enjoy!
KF