Full disclosure, I will be selling these units because I like them. I will start a separate thread in the appropriate for sale section, so please keep that discussion in that thread.
A few months ago I picked up a SVMC072150 from Sabvoton to review and have had it on my bike for about 2 months while I've been testing it. Since I no longer modify the Xie Chang controllers and often have people asking me what controller they should use with a Cromotor, I set out to find a good compromise between performance and cost because I had a goal of selling a cycle analyst compatible controller kit for the Cromotor for <$500 including wiring, fuse, power wiring and the throttles/buttons.
I wasn't to sure about the different specs until I emailed the company and spoke with them by email a bit, 6kW is a good rating, but I was quite excited when I found out that was a continuous rating and the burst rating was 12kW. Once I received the controller with blue tooth wireless I hooked it up to a 75V 18S3P LiPo pack.
The controller has some built in protection and uses 24 IRFB4110 MOSFETs which means one shouldn't run a fully charged pack of higher than about 85V. It's a sine wave based controller with phase current control. It will do 12KW bursts for 3 mins or until something reaches the over temperature setting. The maximum battery current is 150A and I was able to reach that during acceleration with my Cromotor in a 25" tire setup. It is rated for 6KW continuous at 72V so around 85A battery. It has built in protections for battery current and phase current. Each one has a maximum setting and a normal working setting. The maximum setting is what it will burst to and the normal setting is what the currents will go to if it's above them for 3 mins.
It has several really nice features that higher end controllers do.
Protection - Over temperature, over voltage, under voltage, phase current, battery current.
Regen - It has 2 types of regen, slide regen and normal button regen activated by sending a +5v signal to the regen wire. Both as set in phse amps and can provide a strong regen force, enough to cause the rear 19x"3.0 Shinko SR244 tire to be on the verge of skidding while it's engaged at any speed over 20mph.
Setup - The hall sensor setup had an automatic learning feature which made getting the hall phase combination a very easy process, took about 1 min to learn after I figured out the correct sequence in the software I needed to get it to learn the combination. It came with instructions, but they need to be clarified a bit.
Field weakening. I believe it's settable from 0-100A. I need to do some more testing on how much it effects my top speed but I think I saw 53mph with it set to 50A, but I can't remember for sure so I'll have to go test again after I recharge the battery. Nice thing with field weakening is that it only decreases the efficiency when it's in use, which is usually only when you make those short high speed sprints, not at normal cruising speed.
Phase current control based throttle - This makes riding very nice. It has a variable up/down time limit settable in milliseconds to help buffer out any throttle jolts that happen while riding. The throttle voltage end points are adjustable so it will match any pot type throttle or hall based throttle and provide full range. The throttle mid point and also the phase current mid points are adjustable so that you can customize the throttle curve.
Real world use - I set it up to allow 150A battery, 350A phase and turned on slide recharge mode to 75A. This is a pretty typical setup I use to thermally load a controller while I proceed to ride around like an idiot doing 0-top speed back to 0 mph using regen as many times as I can until the controller gets too hot. The controller never got hot, but my motor and wiring weren't too happy so I only got about 5 mins of testing and was concerned about the motor and phase wires. Highest temp I saw was under 40c and it started off at 25c on a 25c day. I need to test this some more, but it's not really too surprising since the Cromotor doesn't pull high amps for very long on level ground and the internal heat sinking is large with the MOSFETs mounted flat on a large 0.25" base plate which is then mounted to the aluminum case.
Bluetooth - cool when it works, but the android application seemed to crash a lot and had many connection issues. Was good for quick monitoring of the controller temperature while abusing it, but unstable. I'm skipping this feature for right now until the application is more stable.
So after I tried out the controller for a few weeks I decided that I wanted to sell them, but I wanted some additional features. I saw that the software had a display for motor temperature, but I didn't see any settings for it. There are settings for over temperature of the controller, but no motor temp.
I contacted Sabvoton again and asked them if they were interested in adding features to their controller and having someone in the US selling them. They offered to add the features I thought people would really like to see in a high power controller. Because I'm planning to offer these with the motors I sell, I asked them to add support for a 10k NTC temperature sensor. The other feature I thought people would really like is a second throttle input that does variable regen. They agreed to add these features and I have been testing them for the last 1.5 weeks since I received a batch of their controllers. The variable regen works very well from 0 to almost locking up the rear tire if you set it high enough. It's only enabled when you activate the brake switch. This allows you to use a low level slip charge for normal riding which I've found greatly improves my regen, but when you press the brake button you can coast like normal, or vary the amount of stopping force that regen is providing
The hardware works great, but they need to update the software to allow more flexibility in the variable regen and motor temperature protection settings. I just emailed them tonight and let them know the variable regen works as expected and suggested some improvements to the programming software. The software has not been updated to handle these new features since they only developed them last month at my personal request which was very awesome of them to do.
Pros - cool features, affordable, high power, phase current control, protection, variable regen, virtually silent (my freewheel is much louder than the motor)
Cons - largish, about the same as a 24 FET Xie Chang / Lyen, I'll post up some pics for comparison, buggy android software, programming software is a little clunky, but works well.
Review is a bit biased due to my personal interest in these, but I'm trying to be realistic and represent it accurately which is why I mentioned the issues I saw (and will work with them to improve).
Here are some pictures to get a good idea of it's physical size. It's very similar to a Xie Chang 24 FET, but it's much heavier and the quality of construction is vastly superior.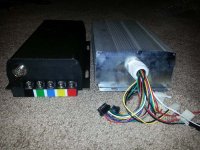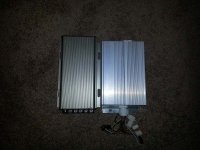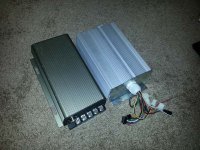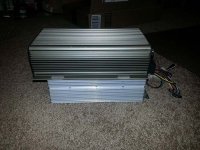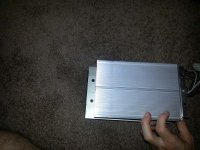 This is the inside of a 24 FET Xie Chang controller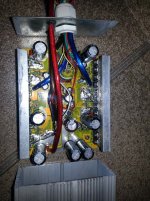 This is the inside of the Sabvoton
View attachment 1
MOSFETs are mounted flat to a large heat spreader plate