Joined

Dec 10, 2018
Messages

343
Location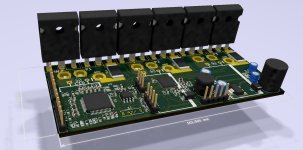 TO-247 version
View attachment 2
vertical 12 FET TO-220 version
View attachment 1
vertical 12 FET TO-220 version w/aluminum channel heatsink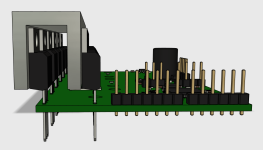 vertical 12 FET TO-220 version w/aluminum channel heatsink
View attachment 3
vertical 6 FET TO-220 version
View attachment 4
horizontal TO-220 version. Image for reference only. Layout does not yet accommodate horizontal TO-220 package.
Announcing the Serious FOCer (working title)
Features:
Expected power of approx 5kW with TO-247 FETs and good heat sinking
Has primary features of VESC controllers (FOC, configurable current/temperature limits, throttle response, dual motor operation, ect.)
Different versions for different FET packages
TO-247 version for higher current capability
Single-sided dual-layer PCB
Small 45mm x 101.5mm board size
Each switch node has it's own bulk cap, pwr, gnd and phase cable holes. Reduces need for beefing up long traces for increased current handling capability
Utilizes DRV8353RS to achieve higher operating voltage, superior fault detection, and small footprint. Also allows for tailored slew rate control to minimize ringing/spiking in the power stage
Easy On/Off capability with switch of choice
Wireless Bluetooth transceiver module can be easily added for wireless interface with VESC Android App. Allows for easy configurations of different speed/power profiles that can be selected at will.
Design will be open sourced after verification
Designed in KiCAD for flexibility and compatibility with the open source community
Donations:
Open Source R&D isn't free! Any help is appreciated!
https://www.paypal.me/shamansystems?locale.x=en_US
This is the higher performing controller in comparison to my Cheap FOCer controller that is about to go into beta testing. All lessons learned from the Cheap FOCer development has and will go into this new controller design. I am open to any suggestions that will help make this controller great for this community!