Joined

Apr 13, 2009
Messages

1,999
Location
Continued from here: viewtopic.php?f=3&t=25739#p372286
Last summer I rode a Giant Revive semi-recumbent and was really impressed with it and how comfortable it was to ride. I have had my eye out for one that I liked (at the right price) ever since. Well, I wasn't having much luck finding one so I started looking at other similar bikes that would have some of the characteristics of a Revive. A couple of people suggested the Sun Sport CX so I kept looking for one of those as well. Then, last weekend, a couple of semi-recumbents were posted up on the local Craigslist. The deal was basically buy a Sun EZ-1 for $100 and get a Bike E for free.

Needless to say, I bought them sight unseen.
The Sun had a brushed WE kit on it, and the bike had been stored outside under a cover but it hadn't been ridden or maintained in a few years it looked like. With a little work and elbow grease the Sun cleaned up very nicely and I then sold it. It was a nice riding bike and very comfortable and I have no doubt it would have made a great E-bike, but I was more interested in the Bike E for some reason. I had seen a couple before at the LBS but had never been particularly drawn to them, but that was before I rode the Revive and had a bug for an electric semi-recumbent. Looking around on ES and other places around the web I saw where a few people had made mid-drives to work with these including the Eco-Speed. With the SACHS 3x7 on the rear, this was starting to seem like an ideal semi-recumbent mid-drive project.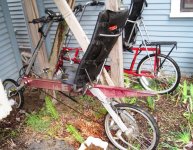 Rather than buying some off the shelf kit, I have decided to do my first "hacker" mid-drive and hopefully save a few bux. Much like my last build on the TidalForce where it was a learning experience and I added many new skills to my abilities hopefully I will learn much more about e-biking using non-hub drive and in the end have a nice comfortable quick(-ish) e-bike that will be able to tackle even the steepest hills around here with relative ease.
Here is an example of a mid-drive Bike E that I found here on ES that has some good info for the thinking on my build though I hope to improve on this build somewhat:
http://endless-sphere.com/forums/viewtopic.php?f=28&t=20135
I spent a little time on Wednesday working on the bike, basically just stripping it all down to give it a good cleaning and take stock of what I have to work with. Here's a fun little picture taken at the end of the day.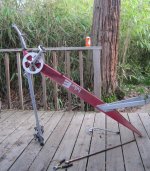 Looking around for potential motors I looked at the 400W Kollmorgen and thought I was going to go that way, but then I found this on Ebay: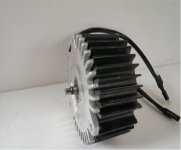 I found several good reviews of this motor so I decided to give it a shot. The motor is non-working but hopefully just has a blown controller. The internal controller is not serviceable, but there are a couple of threads around the web about modifying these to run with external controllers. I was able to buy the motor for $25 shipped.
So that's where I am right now. I will probably fit the bike with either a Sturmey-Archer 70mm or 90mm front drum brake since I won't have an option of a disc brake on the 16" front wheel and the behind the fork V-brake that is on the bike now may not give me the stopping power I want for the speeds I hope to achieve (26-30mph). I am pretty dumb regarding gear reduction and kv so if I say some dumb things I hope you will excuse me and maybe even correct me before I go too far off the deep end into something that is doomed for failure. :wink: Right now, I am planning to run the bike on 10s LiPo (which is another area I have no experience with). Ideally I am also hoping to find a way to do this without having to use one of the $pendy planetary drives that are available for this motor. Am I dreaming??
Why am I building another e-bike?
Well, the TidalForce is a great bike and I really enjoy it, but it is pretty darn heavy for the power that it has. I still have to work getting up hills, and with no rear suspension, it is a little jarring on the back. I am also looking for a car alternative. I think I can rig up the Bike E to pull a little one wheel Bob style trailer that I built awhile back and have pretty decent carrying capacity. With the LiPo and running through the gears, I expect to see a noticeable improvement in hill climbing ability. I doubt I will be able to get the weight lover than the TidalForce, but I bet when it's done it will be close. Also, I just want to see if I can do a somewhat custom build. The two other bikes I've done have been off the shelf kits (although the 9C had a few "issues" to overcome). It seems like the "non-hub drive" section is the final frontier in the bicycle portion of ES so I want to give it a shot and hopefully learn a few things along the way.